Doha - If you wanted to see the super heavyweights post huge numbers, this was not the place to be, but if you wanted to see Hossein Rezazadeh electrify his countryman, while picking up as easy gold medal, you found your home.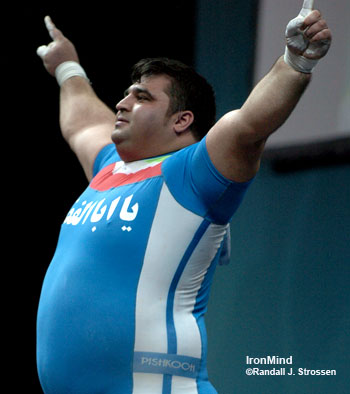 From the applause, you would have thought he did at least 210/260, but no matter, Hossein Rezazadeh won the gold medal at the Asian Games today - electrifying his Iranian fans who packed the competition hall. IronMind® | Randall J. Strossen, Ph.D. photo.
There were two top echelon lifters in the +105-kg category - Jaber Salem (Qatar) and Hossein Rezazadeh - but neither one was coming into this contest in top form. Salem, who won a gold medal at the 2003 World Weightlifting Championships for snatching 210 kg - opened with 175. 175? And Rezazadeh, who holds the world record in the snatch at 213 kg, opened with 185. Salem took 185 for his second attempt, made the lift and then retired from the snatches. Rezazadeh went on to make 190 and 195 - he had to run forward to save the 195. The clean and jerks were even more contained, as Salem hit 215 and then 225 before calling it a night. Rezazadeh opened with 230, said that was enough, and then basked in applause from the Iranian-packed stands. The bronze medal went to Andrey Martemyanov (Uzbekistan), a lifter who looked like he had just stepped out of the mid-1960s and who did 168/213.