Ali Moradi, president of the Iranian Weightlifting Federation, told IronMind today that his country's star lifter, Hossein Rezazadeh, is training hard for the upcoming Asian Games.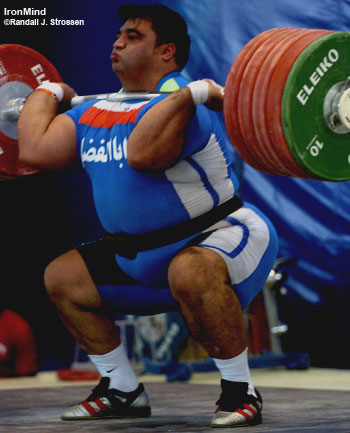 For Hossein Rezazadeh, this 246-kg clean and jerk at the 2006 World Weightlifting Championships was quite modest. Weightlifting fans would love to see Rezazadeh do about 20 kg more than this at the Asian Games later this year. IronMind® | Randall J. Strossen, Ph.D. photo.
The Iranian Weightlifting Federation and the entire weightlifting world were rocked when nine Iranian lifters tested positive in September, during a random, out-of-competition test. The Iranian team wasted no time addressing the situation publicly and today Moradi said that with nine of his country's top weightlifters suspended, "this is really very bad." Moradi emphasizes that this was a negative development not just for his country's team, but for the whole sport.

Hossein Rezazadeh, who holds all three weightlifting world records in the super heavyweight class, was one of the Iranian lifters who tested negative, and he alone represented Iran at the recent World Weightlifting Championships. Rezazadeh will also be competing in Doha at the upcoming Asian Games, Moradi confirmed, but was cautious when asked whether Rezazadeh was likely to be re-writing the record book.

"Hossein is working very, very hard," said Moradi, "but his world records are a very high standard."