Remember, Shop and Save at IronMind
Hot dog—it's IronMind's Third Annual Memorial Day Sale!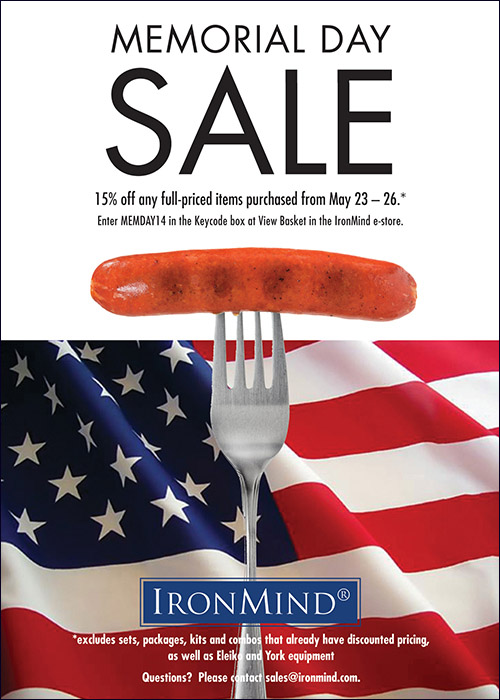 Get the best for less: the Third Annual Memorial Day Sale gets you 15% off full-priced items* from IronMind, so stock up for strength. On Monday, be sure to fly the flag and salute those who gave their lives or who put their lives on the line each day for our country. IronMind® | Artwork courtesy of IronMind


Celebrate Memorial Day, and if you feel like shopping, save 15% on full-priced items at IronMind throughout the weekend. 



Here's your chance to get the best equipment in the strength world and maybe you can even save enough to pay for a chunk of your weekend's barbecue bill: Captains of Crush grippers, Draft Horse Pulling Harnesses, Headstraps Fit for Hercules, Alight Training Centers, Apollon's Axles, Rolling Thunders, Zenith grippers, Just Protein . . . the list goes on. 



The sale runs Friday, May 23, through Monday, May 26. Just enter the code MEMDAY14 in the keycode box at View Basket when you are checking out from the IronMind e-store.


*excludes packages, sets, kits and combos that already have discounted pricing, as well as Eleiko and York equipment

###



Want to talk strength? Join the IronMind Forum.

You can also follow IronMind on Twitter and on Facebook.