Reese Hoffa Dominates the Shot
Indianapolis - Reese Hoffa didn't just win the men's shot title at the 2007 AT&T USA Outdoor Track & Field Championships today - he also had a handful of the best throws.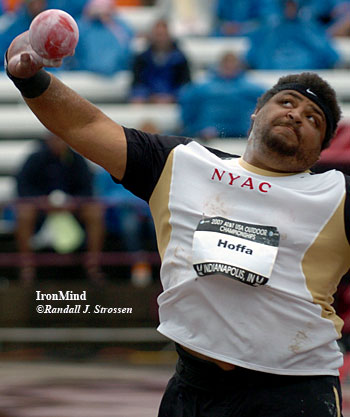 Reese Hoffa sailed to victory in the men's shot put today, with a best throw of 70 feet 5.25 inches. IronMind® | Randall J. Strossen, Ph.D. photo.

The star-studded field had to compete in the rain, but that didn't seem to faze Reese Hoffa as he launched the top five throws (all over 21 meters), with a best effort of 21.47 meters (70 feet 5.25 inches). Hoffa was going for ownership of the top six throws, but he fouled on his last throw.

Dan Taylor was second with 21.00 meters (68 feet 10.75 inches), and Adam Nelson was good for third place with 20.54 meters (67 feet 4.75 inches), even though he only took his first two throws.

Fouls were a big factor today, as Christian Cantwell, who finished fifth, struggled with four fouls, and John Godina fouled out in the qualifying round.