RecoveryX Signs with Super Series for the Garden
Super Series Managing Director Jesper Albansson told IronMind®, "The Super Series is very proud to announce RecoveryX as the Grand Prix Title Sponsor partner for the WaMu Theater at Madison Square Garden Grand Prix."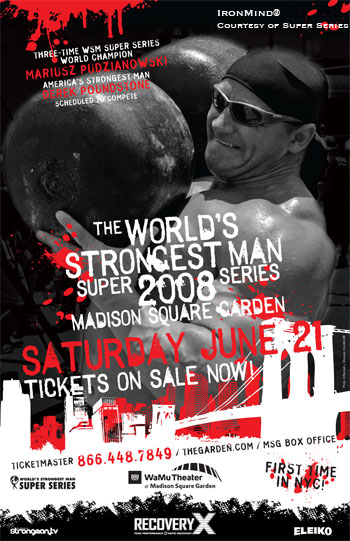 Tickets are on sale now for the Super Series Grand Prix at Madison Square Garden's WaMu Theater on June 21. IronMind® | Art courtesy of Jesper Albansson/Super Series.
"The people behind RecoveryX have really taken the sport of strongman to their hearts and we are currently discussing an expansion of our partnership," explained Albansson. In addition, Albansson said, "Kevin Nee has also been signed as their spokesperson and can be seen both at the MSG event and in the RecoveryX advertising. The company's official website has recently been soft launched and can be found at www.recoveryx.com."