Recipe for Strength: Sets and Reps
The latest Jim Schmitz on the Lifts column gives you the lowdown on the set and rep schemes that three-time US Olympic Weightlifting Team coach Jim Schmitz has found most productive.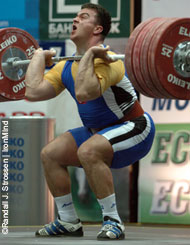 You might not get as strong as Bunyami Sudas (Turkey), who cleaned and jerked 227.5 kg in the 105-kg category at the 2005 European Weightlifting Championships (Sofia, Bulgaria), but if you follow Jim Schmitz's advice, chances are that you'll get a lot stronger than you are. IronMind® | Randall J. Strossen, Ph.D. photo.

You might not have a coach of Jim's experience in your neighborhood, but here's a way to put his knowledge to work in your own training.

You can follow this link to Jim Schmitz's Schmitz on the Lifts series, or from the IronMind homepage go to the Training Articles link.