Re: Fortissimus: "Canada World Strength Does Not Accept . . . "
In the wake of yesterday's mass media reports about Fortissimus, the organization that formed the backbone of the contest - Canada World Strength - has given IronMind® a statement.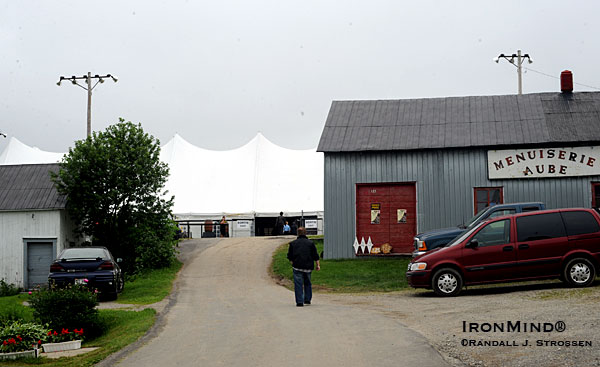 A billowing white tent - the perfect setting for what Mayor Carl Dubé was the first to envision . . . a strongman contest honoring Louis Cyr that came to be called Fortissimus and that took root in his village, Notre-Dame-du-Rosaire. IronMind® | Randall J. Strossen photo.

The following is verbatim from Canada World Strength:

"Canada World Strength does not accept some of the recent statements made about Fortissimus 2009 by Mr. Paul Ohl to the local press, and while we regret that this disagreement has arisen, Canada World Strength will express its position in an official press release on Monday, October 26 early in the morning.

"In the same breath, we hope that people will remember that Fortissimus was first the dream of a young mayor, Mr. Carl Dubé. Canada World Strength pays him a tribute."