Rauno Heinla Takes His First MHP SCL Victory
"In the last few years, Estonia has produced excellent strongman athletes like Lauri Nami, Meelis Peil and now right to the top by winning his first MHP SCL competition, Rauno Heinla," Ilkka Kinnenen told IronMind.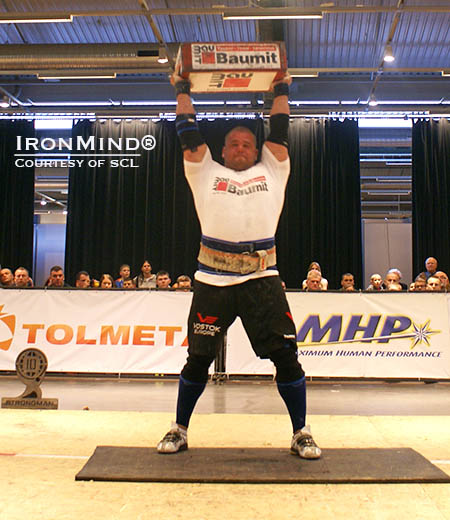 Rauno Heinla on the Block, part of the Overhead Medley at SCL Lithuania/Savickas Classic this weekend, where Heinla got his first Strongman Champions League victory. IronMindr | Photo courtesy of SCL



"Heinla has been competing successfully, of course, at the international level and being on the podium, but now winning in a toughtlineup brings him a few steps forward. Even Zydrunas Savickas praised Rauno´s performance after the competition.

"The competition started with a Tractor Pulling with Harness and Rope. Total distance of 20 m. Lithuanian Vidas Blekaitis pulled the fastest, with a time of 22.19 sec, followed by Slovenian Mattias Belsak who just a week ago turned 22 years old. His time was 22.31sec and third was Dutch school teacher Alex Moonen, at 22.59 sec.

"The second event was the OverHead Medley. This was extremely tough and great to watch: four objects starting with a140-kg Log, then a 125-kg Block, a160kg Log and, last, a 105-kg Circus Dumbbell. Rauno Heinla won in 33.51 sec, followed by Kryzsztof Radzikowski, 36.08 sec, and then Mattias Belsak, 45.98 sec.

"The Shield Carry for Max Distance was next: 185-kg Shield, 20-m track. Marius Lalas, Vytautas Lalas's younger brother, did amazing new world record by carrying the shield a distance of 122 m 75cm. Second was Rauno Heinla, 90m 76cm, and third was Mattias Belsak, 90m 18cm.

"The last event in SCL Lithuania was a Tire Flip (350 kg) and Barrel loading medley: Five flips and then carrying 100-kg barrels to a platform ended the 2014 Savickas Classic. The fastest in the Medley was Rauno Heinla, at 34.19 sec; second was Marius Lalas, 37 sec; and third was Dainis Zageris, 37.50 sec.

"There is a new leader again now in the SCL series: Martin Wildauer took the yellow shirt back from Ervin Katona. Ervin got injured already in Romania (biceps injury) and could not participate in this competition. He needs rest now and hopefully we will see him in finals fully covered.

"Also Kryzsztof Radzikowski, who won three SCL events in a row had really bad luck the first day with the Manhood Stone and lost his battle for the second day. But for sure in Estonia we will see again different Kryzsztof who wants to win the 2014 SCL series. So lots of excellent fights coming up in the next competition on October 18 at the MHP SCL Estonia.

Big thank to Zydrunas Savickas and his crew putting out excellent event once again."

Final Results

1. Rauno Heinla 77.5
2. Vidas Blekaitis 74
3. Mattias Belsak 62
4. Martin Wildauer 60.5
5. Saulius Brusokas 58
6. Dainis Zageris 57
7. Alex Moonen 55.5
8. Kyzstof Radzikowski 55
9. Marius Lalas 53
10. Ole Martin Hansen 40.5
11. Arto Niemi Nikkola 18


###

Want to talk strength? Join the IronMind Forum.

You can also follow IronMind on Twitter and on Facebook.