Quebec Strongman Louis-Philippe Jean Leaves Montmagny
Telling IronMind® that he has "to train with weights, stones and trucks, not with problems," Quebec strongman Louis-Philippe Jean explained why he removed himself from the political squabbling that cast a pall over the very area that had brought new life to the strongman world in 2008 and 2009.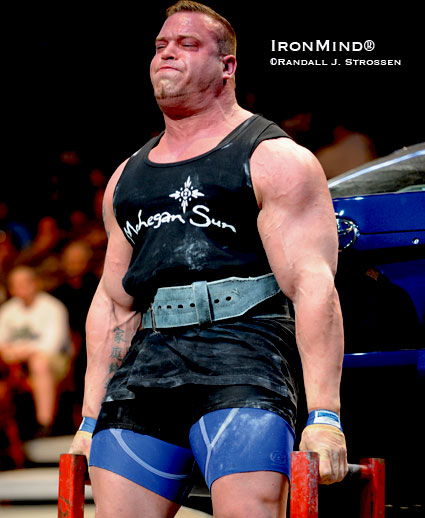 Louis-Philippe Jean, the personable Quebec strongman, bangs away on the car deadlift at the 2009 Giants Live Mohegan Sun Grand Prix. IronMind® | Randall J. Strossen photo.

Louis-Philippe Jean said he left Montmagny, Quebec because he did not have, "a signed agreement [and] because [he] did not want to be involved in political controversies that have unfortunately sown doubts in the region. This is not the kind of pressure an athlete needs.

"I was given great opportunities in 2008 and 2009, especially at Fortissimus, at the [Giants Live] Mohegan Sun and at the World's Strongest Man. I have learned much from these experiences. In order to make the best out of this, I need to set up new training facilities and a reliable environment that will take off all the pressure I underwent during the past year," Jean said.

"I am grateful to the many fans in Montmagny and certainly to the city of Montmagny for opening doors for me," said Jean, who also credits Hugo Girard for, "giving me the chance to compete in the Quebec Strongman Cup and helping develop my competitive abilities," and Paul Ohl, "for his sound advice over the past two years and the invites to both Fortissimus 2008 and 2009."

Looking forward, Louis-Philippe Jean said, "What I really need is an environment conducive to [the] very intense workouts that [are] required by the extreme sport that I practice. I could not take advantage of this environment in Montmagny in recent months, which prompted me to make my decision."