Qualifying for the 2011 IHGF Highland Games Amateur World Championship
"This year's Highland Games season will see a total of twelve athletes qualifying for the 2011 IHGF Amateur World Heavy Events Games Championships in Spokane," Francis Brebner told IronMind® today.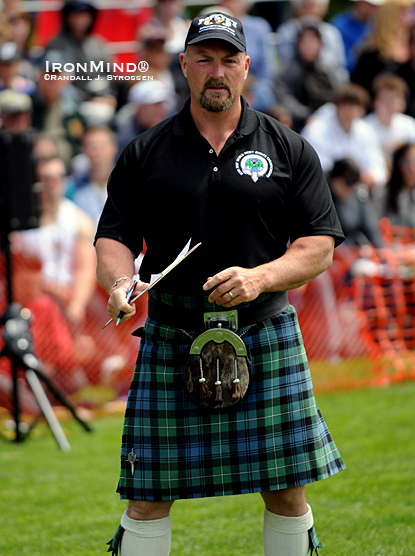 Looking trim and fit, Francis Brebner has maintained his passion for and involvement in the Highland Games since his days as one of the top professional competitors. Now the vice president of the International Highland Games Federation (IHGF), Francis regularly works as a referee at the world's top Heavy Events competitions, such as the IHGF World Heavy Events Championship held in Victoria, British Columbia last weekend. IronMind® | Randall J. Strossen photo.

"All amateur athletes' throwing marks made throughout the 2010 Highland Games season will be displayed on the IHGF ranking board, excluding Australian and New Zealand athletes, who will be given until the 1st of March 2011 due to the difference in their Highland Games season.

"All amateur athletes will be responsible for submitting their scores after each official Games they compete in: all scores should be sent to Ryan Vierra until the IHGF data base is set up." Brebner told IronMind® that when the IHGF data base is established, athletes will be able to post directly into it.

"In addition," Brebner said, "amateur athletes attending any of the IHGF two-day ranking clinics will have additional opportunities, with their best marks added to the ranking board.

"We believe that this will prove to be a great system to encourage young amateur athletes to come through the ranks more rapidly - giving them a goal and also the vision of competing on a international level," said Brebner.

The first IHGF ranking clinic will be held in Orange County California June 5 - 6 with a total of 20 athletes registered so far, Brebner said. In addition to the clinic, Brebner will be hosting the 2010 Orange County Wrist Roller Championships.

Any additional athletes wishing to attend this clinic should contact West Imboden.


Want to talk strength? Join the IronMind® Forum!

You can also follow IronMind® on Twitter.