New York Armwrestling's Gene Camp calls it, "The largest armwrestling practice in America!" so, of course, it's in New York City and it's proudly sponsored by Captains of Crush® Grippers.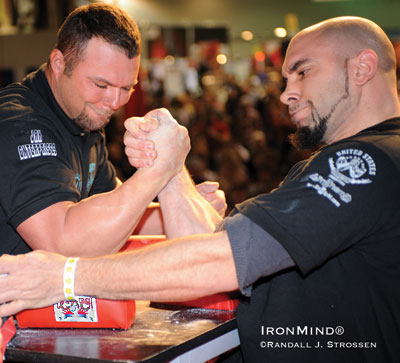 Michael Selearis (right) on his way to beating James Smith (left) and capturing the crown at the 2008 Arnold Armwrestling Championships: Show up on Saturday and you can meet Michael in person, learn a thing or two about armwrestling, and have a great time. IronMind® | Randall J. Strossen photo.
It's every Saturday, starting tomorrow, from 10 a.m. to 1 p.m. Show up and you'll have a chance to get into the one strength sport everyone has tried, but few have mastered.

"Join us for three hours of fun, entertainment and explosive raw energy," said Gene Camp. Featured events include:

Captains of Crush® Gripper Contest
Arm Wrestling Contests
Other Feats of Strength ("Show us what you got!")

The action is open to everyone, Camp said, ("men, women and teens"), with "four tables, official instructors and referees."

For full details, please check the official New York Armwrestling website.