Pudzianowski, Marunde and Vidzis
The World Strongman Cup is coming to Minsk, Belarus this weekend, and series manager Martin Muhr told IronMind®, "We are waiting for a new fight between Mariusz and Jesse, and of course Raivis, because he placed second in Riga in the first World Strongman Cup contest this year."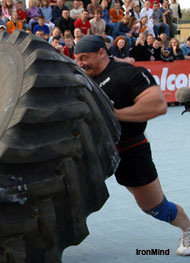 Mariusz Pudzianowski - always the man to beat - is on this weekend's World Strongman Cup card. IronMind® | Photo courtesy of Martin Muhr.

"We are also looking forward to the new guy from Norway, Arild Haugen . . . [to see what he] can do to the big names." Haugen, who has been described as looking something like a bigger version of Mariusz Pudzianowski, created quite a splash at Norway's Strongest Man earlier this year, and in a move that might signal his interest in crossing over to the NFL, IronMind® heard that he is coming off a recent motorcycle accident . . . from what we hear of Arild Haugen, it's the pavement that might have gotten the worse end of the collision.

Anyway, here's the full line-up: Mariusz Pudzianowski, Jesse Marunde, Raivis Vidzis, Arild Haugen, Tarmo Mitt, Antanas Abrutis, Terry Hollands, Ralf Ber, Rolands Gulbris, Dmitry Kononets, Elbrus Nigamatullin, Sergei Rumen.