Pudzianowski, Marunde, Virtanen and Filiou Qualify for WSM '05
It wasn't surprising that two-time World's Strongest Man winner Mariusz Pudzianowksi won the Super Series event at Muscle Beach yesterday, but just how hard he was pushed by Jesse Marunde boosted the value of the young American's stock.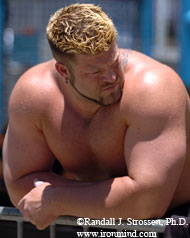 Here's the beef: Jesse Marunde (USA) relaxes before the sparks start flying at the Super Series contest yesterday. Asked what her husband eats to maintain his size, Callie Marunde said, "Three pounds of Grassland beef a day." IronMind® | Randall J. Strossen, Ph.D. photo.
In a picture-perfect setting, the battle was on for the first four invitations to the 2005 World"s Strongest Man contest, and this competition managed to bring together established stars, rising stars, heavy events and a storybook southern Californa setting, and at the end of the day, with the battle for first place coming down to the last event, the top four finishers were:

1. Mariusz Pudzianowski (Poland)
2. Jesse Marunde (USA)
3. Janne Virtanen (Finland)
4. Dominic Filiou (Canada)

Both Pudzianowski and Virtanen are past World's Strongest Man winners, and Marunde and Filiou proved their reputations as top comers are well deserved, as did Dave Ostlund (USA), who, finishing in fifth place, just missed getting an invitation to World's Strongest Man, but seems certain to have another chance.