Prince of Stones: "Watch Out, Mr. Felix!"
Travis and Lucy Ortmayer teamed up to give the world Mikhail Ryan Ortmayer last week - weighing in at "8 pounds even," Dione Wessels had told IronMind®, and the hands on this young guy are sending out a clear message: "Watch out, Mr. Felix!"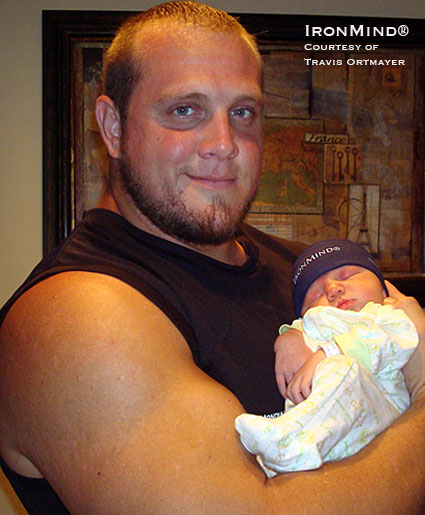 Travis Ortmayer and "The Prince of Stones," who we would respectfully also dub, "Mighty Mitts." Check out the hands on this little guy. Good taste in headwear, too. IronMind® | Photo courtesy of Travis Ortmayer.


"It is a giant mix of emotions: happiness, terror, joy, shock, and everything else in between!," the proud father told IronMind®.

"The baby is named after one of my best friends, Misha [Mikhail Koklyaev]. Hopefully little Mikhail Ryan Ortmayer can live up to, and surpass, both his father and his namesake . . . He has the freaking hands to do it though. I've never seen such big hands on a newborn!," said Travis.

Forget the baby rattle: with his hands, get Mikhail a Rolling Thunder and let the race begin.