Preview: Strongman Champions League
Based on what they have done in previous years, Marcel Mostert is predicting a sellout crowd of 10,000 in the Riga Arena when the Strongman Champions League comes to town this Saturday, March 22.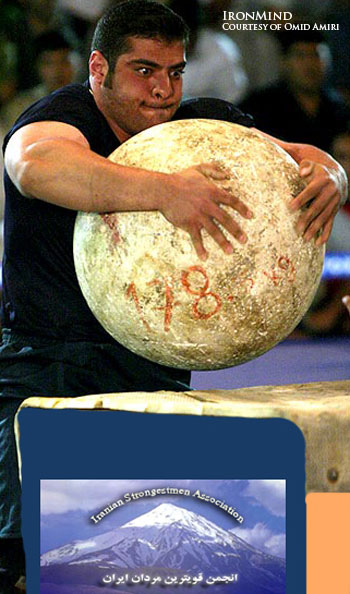 Farzad Mousakhanian (Iran) will be competing this weekend when the Strongman Champions League holds its kickoff competition in Riga, Latvia. Highly touted by Iranian strongman organizer Omid Amiri, this contest will be something of a coming out party for Farzad Mousakhanian, and his performance will be watched with great interest. IronMind® | Photo courtesy of Omid Amiri.

"The kickoff for STRONGMAN CHAMPIONS LEAGUE will be spectacular!" Mostert told IronMind®, as he set the stage: "The athletes and star announcer Raimunds Bergmanis (who needs no further introduction) will come into the arena in a few Hummers with beautiful Latvian cheerleaders. This is just a part of what we are going to offer, so be there to see all!

"We look forward to the heavy events, the great line-up of athletes and shows between the events, which all will be recorded by the biggest commercial TV channel, LNT, who will broadcast it just two days later in Latvia!"

Regular readers of the IronMind® News have seen multiple stories on the Iranian strongman Farzad Mousakhanian, and the Strongman Champions League contest in Latvia will mark his debut in a high profile international strongman competition. Farzad Mousakhanian's presence in the field drew a special note from Marcel Mostert, one of the world's most knowledgeable figures in strongman.

"Interesting in the athletes' field will be the new man from Iran, who did (by his own words) last week a deadlift of 400 kg for three reps! He is the strongest man of Iran and predicted by the Iranians and some outsiders as the man who will take the US$6,000 first place prize back to his home!"

Given that the Strongman Champions League was founded by Ilkka Kinnunen and Marcel Mostert, it goes without saying that the events will be heavy, and here's what they are:

1. Viking Press for reps, with 140 kg
2. Yoke Race with 410 kg for 30 meters
3. Medley: Farmer's Walk (130 kg) and "a really HUGE Tyre Flip" (400 kg). "I think we never have seen such big tyres before in strongman," Mostert said.
4. Wheelbarrow with 400 kg
5. Atlas Stones from 110 to 180 kg, on a wall with heights of 170, 160, 150, 140 and 130 cm
6. Deadlift for reps with 2 cars (the weight in hands 330 kg)

"Only the guy with the most strength in every cell of his body and mentally strong enough to survive this battle will be the absolute winner of the day," Mostert said, "but still not of the complete Champions League, as there will be more demanding contests coming up!"

Looking ahead, Mostert explained, "The next one is weeks later, April 5, in Dubai."

"We are proud to present this prestigious Strongman Champions League, in what will be the new standard for the coming years," said Mostert. "We all think (athletes, organizers, inside experts and media) that with 10 to 12 competitions and more than US$250,000 in total prize money, surely the Strongest Man in the World can be pointed to, without any doubts. It's not just a competition done in two days, it's not just a show for one week. No, it will take the athlete a whole year to be the absolute champion. After all, the winner of the Strongman Champions League has done at least 60 events, with the biggest weights and huge pressure from his competitors breathing down his neck, in just a few months' time.

"Personally I want to make this statement," Mostert added.

"As I can speak six languages and therefore can and do talk a lot with forums and strongman fans in all the countries, especially in Europe, and according to my co-organizers, athletes, strongman experts, media, and my high experience and respect in strongman for more than 20 years, I can say that 95 percent of all these people love the new concept and are looking forward to seeing the first Strongman Champions League competition. This is a clear and clean concept with fair weights for strongman. Our goal is to lift the whole strongman sport, together with athletes' and co-organizers' help, to a new global experience again.

"That only will give benefit to us all and we will succeed!" Mostert concluded.