Powering Toward Pleasanton
Athletic Director Steve Conway is looking for close battles and huge throws at the Highland Games World Championships in Pleasanton, California over the Labor Day weekend.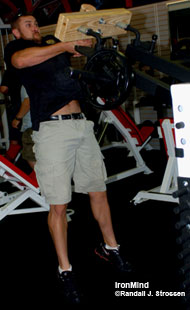 Bert Sorin, who will debut in Pleasanton as a top contender in the Amateur A class, demonstrates the caber training attachment for the Hurricane, a unique machine developed by Sorinex. Richard Sorin describes the Hurricane as being a link between free weights and machines, and Bert Sorin swears by its effectiveness for boosting his Highland Games performance. IronMind® | Randall J. Strossen, Ph.D. photo.
Steve Conway thinks that the very close battle for the top spots at the Fergus Games last weekend in Canada will be resumed in California - defending world champion Ryan Vierra held off the hard-charging Sean Betz, Dave Brown and Harrison Bailey in Fergus, and he can be expected to dig in at Pleasanton, fighting to hang on to his crown.

Conway is looking for a lot of action in the weight-over-the-bar (weight-for-height), as he expects Ukrainian Kyrylo Chuprynin to put pressure on Matt Sandford's field record for the standing style (traditional style), so watch for an over-18-foot throw. Sunday will include the weight-over-the-bar with a spin and Conway expects to see that record go by the wayside as well - world record holder Dave Brown will be there, along with top performers Harrison Bailey and Ryan Vierra.

Look for plenty of action in the other classes too, with the Amateur As featuring Steve Dering, Mike Pockoski and Bert Sorin; Conway is predicting a great battle between Andrea Thornton and Mindy Lincoln in the women's class, as well.