Poundstone Coming to the Garden
Derek Poundstone has officially confirmed that he will be competing at the Eleiko WSM Super Series set for Madison Square Garden on June 21, so if you haven't already bought your ticket, go get it now.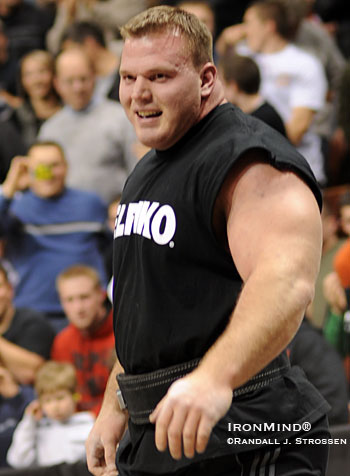 And why shouldn't Derek Poundstone smile? He was a couple of hours from making good on Bill Kazmaier's prediction as he won the Eleiko WSM Super Series Mohegan Sun Grand Prix. Poundstone would follow this win with a superb performance at the Arnold a few weeks later, and next, he'll be back in the saddle as the Eleiko WSM Super Series comes to the legendary Madison Square Garden on June 21. IronMind® | Randall J. Strossen photo.

"It's not just about 'Poundstone versus Pudzianowski' . . . it's about all the athletes," Derek Poundstone told IronMind®, but the truth is, everyone would like to see a rematch between the two guys seen as favorites to win the 2008 World's Strongest Man contest, as they headline a card that will make strongman history in the United States.

Talking about his need to focus on "the biggest and the best shows" at this point, Poundstone said he's "very, very excited about being at the Garden . . . it's the frigging Garden - what more do you need to say?!"