Polska Sztanga: "Marek is Teaching the Weightlifting World Polish"
If you are an Olympic weightlifting enthusiast, chances are that you know about Polska Sztanga, and if you don't, you should, even if you don't read Polish . . . yet.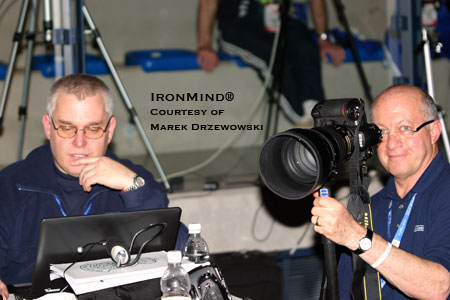 Hard at work, and this isn't even his day job, Marek Drzewowski updates Polska Stzanga live from the 2008 European Weightlifting Championships (Lignano Sabbiadoro, Italy). IronMind® | Photo courtesy of Marek Drzewowski.

"Polska Sztanga is a website about Polish and world weightlifting, with current news and results from all over the world, along with rankings, records, and galleries," Marek Drzewowski told IronMind®. "This site combines features of a press service and a statistical compendium," Drzewowski explained, and while this might sound somewhat dry, let's recall that it was Polska Sztanga that first broke the news about the positives at the 2006 European Weightlifting Championships, a scoop that did not bring Drzewowski universal endearment even though, as Drzewowski says, "Everything I reported was true."

Four years old now, Polska Sztanga is the result of Drzewowski's "30-year interest and passion associated with Polish and foreign weightlifting," along with the support of his "friend and site administrator, Rafał Grążawski."

Drezwowski stresses that his site is a hobby and non-commercial and explains that, "The main goal is to promote weightlifting through presentation of up-to-date competition scores from various local and international events, abundant picture galleries, and various rankings, statistics and records. Our site cooperates with many sport stats from all over the world," Drzewowski adds, "and we are constantly looking for willing people who want to cooperate with Polska Sztanga - sending results of national championships from other countries, especially from Central and South America, Africa, Asia, and the Arabic region."

Marek Drezewowski might proudly point to his traffic stats as an indication of his site's popularity, but IronMind® prefers European Weightlifting Federation Vice President Per Mattingsdal's comment to Randall Strossen: "Marek is teaching the weightlifting world Polish."