Polish Sweep at Giants Live, WSM Update
"The Poles swept the podium in Kartuzy," Giants Live director Colin Bryce reported to IronMind: "However, the points don't tell a story of complete Polish domination, but rather a tale of a very close battle all day."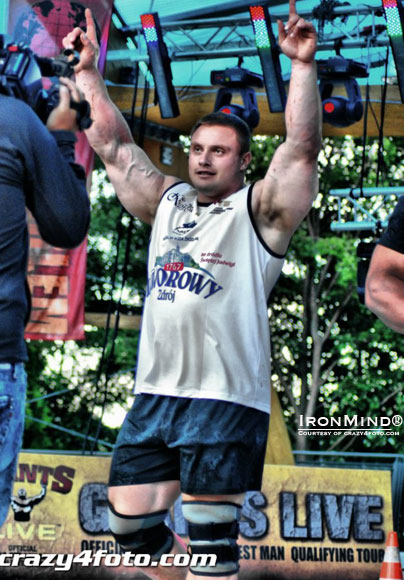 Krzysztof Radzikowski won Giants Live–Poland and is headed to World's Strongest Man 2012. IronMind® | Courtesy of crazy4foto.com.


"In the end, overall positions from 1st to 7th place were separated by less than 10 points. This was a very close contest indeed.
Sadly, Mark Felix and Darren Sadler suffered bicep injuries (not major)," said Bryce.

Here are the final places, officially:

1. Krzysztof Radzikowski (POL),
2. Mateusz Baron (POL)
3. Sebastian Kurek (POL)
4. Louis Phillipe Jean (CAN)
5. Misha Koklyaev (RUS)
6. Jerry Pritchett (USA)
7. Adam Scherr (USA)
8. Sebastian Davidsson (SWE)
9. Darren Sadler (UK)
10. Mark Felix (UK)

"Radzikowski, who is coached by Mariusz Pudzianowski, looked very impressive: 6 reps at 160 kg in 60 seconds on the Log Lift was one of the highlights of his day. Mateusz Baron pulled a 450-kg deadlift on a slightly high bar. Misha Koklyaev looked a little 'strongman' rusty, but still very strong. He now heads off to a training camp with Raimunds Bergmanis in Latvia.

"As for the Americans—Pritchett and Scherr—they were very impressive in their first big international contest. Adam 'Country Strong' Scherr definitely wins the prize for most popular strongman amongst the fans. The locals were very excited to get this North Carolina giant's autograph after the show.

"Now we look forward to the World's Strongest Man which will be in in the USA in September. The WSM line up will be announced shortly and the exact details will be released by IMG Media.

"Other notable WSM information is the SCL top five, which also gain WSM qualification, are:

1. Zydrunas Savickas (Lithuania)
2. Laurence Shahlaei (Iran)
3. Ervin Katona (Serbia)
4. Terry Hollands (England)
5. Martin Wildauer (Austria)

"Thanks to Marcel Mostert and Ilkka Kinunnen for their hard work on that great tour too," said Bryce.

For more Giants Live info please visit their website or to get even more up to date info use their Facebook page: "We can interact and hear your say on the season," Bryce said

As for Giants Live's exhausted director of operations, Colin Bryce, he goes to the Olympics Wednesday morning, where he said he "looks forward to meeting up with Randall Strossen of Ironmind at the Excel Arena in East London." Both are there to cover weightlifting—Bryce as a commentator and Strossen as a photographer.

His schedule has not deprived Bryce of his sense of humor, "Obviously, the Olympics is not a big scale event like a Giants Live, but the Games should still dish out some ok entertainment!

On a more serious note, Bryce said, "That's it for the Giants Live season 2012. Please watch out for TV listings in the UK for Channel 5 TV at Christmas where all five shows will a part of the WSM series.

"As for 2011, the DVD will be released shortly for that entire season as we realise there are a number of worldwide territories including the USA where we can't be seen. Please watch out for the release.

"Many thanks for your support!," said Bryce to Giants Live and WSM fans around the world.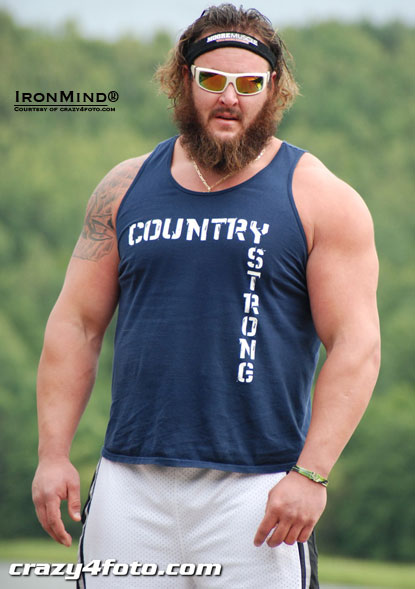 Andy Scherr had the fans eating out of his hand at his Giants Live debut. IronMind® | Courtesy of crazy4foto.com.


###

The IronMind Forum: discuss this article, talk strength, get help with your training.

You can also follow IronMind on Twitter.