Poland Prevails at Scitec European Strongest Team Challenge
The Scitec European Strongest Team Challenge continued this past weekend, with eight teams in the fourth leg of this strongman series.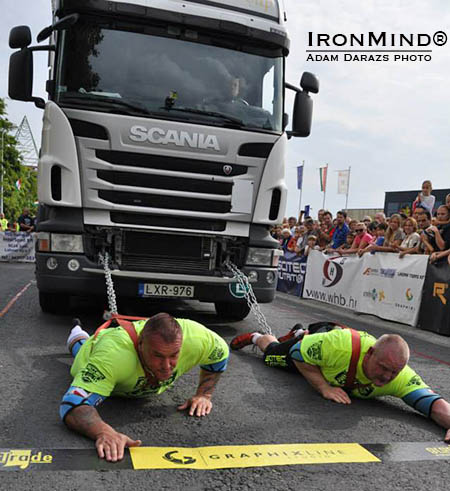 Team Poland (Mateusz Baron, left, and Rafal Kobylarz, right) in the truck pull at the 2014 Scitec European Strongest Team Challenge. IronMind® | Photo courtesy of Adam Darazs




2014 Scitec European Strongest Team Challenge
by Francis Brebner

During this past weekend at the local Miners' Day Festival, Tatabánya, Hungary, eight teams competed in the fourth leg of the Scitec European Strongest Team Challenge. Over a thousand people turned out to watch the competition, which has become a big draw, and to spur on the homeboy favorite Ákos Nagy.

The first event, the two man harness truck pull with a colossal 18 tons pulled over a 19-m course, turned out to be a very close competition with four teams within two seconds of each other. Team Germany took the first win with a time of 25.67 sec. over second-place team Poland at 26.26, which was a big surprise as they had never lost this event before. Third was team Hungary-A at 27.27.

In the Viking press, athletes had to press and lock out as many reps as possible with 155 kg in 120 seconds. This proved a strong event for the Polish team, which repped out a staggering 40 for the win. In second and hot on their heels was team Hungary-A with 35 reps, and in third, a tie between team Ukraine and team Germany with 31 reps.

The third event was the two man 500-kg frame carry, and the Polish team sped over the 40-m course in a time of 18.66 sec. for the win—but they had to work for it as the big surprise was team Slovakia, which came in at 19.37 for second. Again in third was team Hungary-A at 22.72.

The Icelandic cross weighed 128 kg and had to be carried for max distance by an individual team member (A). Team Poland once again notched up the win at 40.82 m, but just marginally over team Slovakia's 40 m. Team Austria did 35.45 m.

The climax was the silver dollar deadlift, an individual event by the other team member (B), who had to choose either 305 kg or 325 kg, with 75 seconds to rep as many times as possible. Ákos Nagy of team Hungary-A locked out 4 reps with 325 kg for first, followed by team Poland's Mateusz Baron with 3 reps with the same 325 kg and team Ukraine's Vitalij Mikhaev with 2 reps, also with 325 kg.



1. Team Poland (Mateusz Baron-Rafal Kobylarz) 38 points

2. Team Hungary-A (Hrozik Gábor-Nagy Ákos) 30

3. Team Germany (Daniel Wildt-Denis Kohlruss) 21.5

4. Team Ukraine (Vladimir Reksha-Vitalij Mikhaev) 20.5

5. Team Austria (Michael Votter-Nemanja Tasić) 17
6. Team Slovakia (Berecz Frigyes-Fehér Mátyás) 16



Promoter Adam Darazs said it was a great competition, the closest competition in the Scitec European Strongest Team Challenge series thus far. Athletes went all out to garner as many points as possible in their efforts to go beyond team Poland before the finals, which will take place in Madrid, Spain. There, a total of ten teams from Poland, Hungary, Austria, Germany, Ukraine, Spain, Czech, Sweden, Denmark, and Georgia will contend for the title.



###



Want to talk strength? Join the IronMind Forum.

You can also follow IronMind on Twitter and on Facebook.