Podobedova Overtakes Popova at the Europeans
Sofia, Bulgaria - The Russian women were a force to be reckoned with again today at the European Weightlifting Championships, as the contest for the 75-kg title turned into a battle between Valentina Popova and her countrywoman Svetlana Podobedova.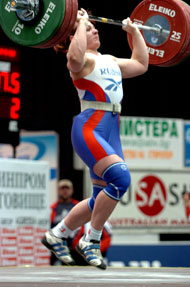 Svetlana Pedobedova (Russia) drives under the 147.5-kg jerk that gave her the victory in the 75-kg category at the European Weightlifting Championships. IronMind® | Randall J. Strossen, Ph.D. photo.
Popova got into the lead by outsnatching Podobedova 117.5 to 115, plus she was lighter. When Popova opened in the clean and jerk with a successful lift of 137.5 kg, Podobedova took the 142.5 she needed to leapfrog Popova for first place.

Podobedova made a very nice lift, and Popova responded by taking the same 142.5 herself, and by Popova making the lift, Podebedova now needed 147.5 to recapture the lead. She took the weight and made another good lift.

With one attempt left, in an effort to move back into first place, Popova took 147.5 kg - if she made it, she would resume the lead and force Podebedova up to 152.5. Popova gave the weight a good shot, but missed the clean.

With the gold medal in the total secure, Podobedova called for 150 kg. but she missed the clean. Rumania Petkova (Bulgaria) got the bronze in the total, via 107.5/127.5 and it was a well-deserved medal because she really lit up the competition hall with her fiercely-fought lifts.