Pleasanton Highland Games
Athletic Director Steve Conway and the rest of San Francisco's Caledonian Club crew have come up with another terrific T-shirt design for the 2007 Pleasanton Highland Games and the pro line-up reflects the world-class status of this major heavy events competition.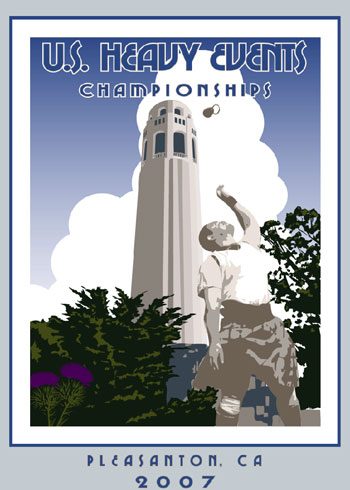 San Francisco's Coit Tower looms in the background of the official T-shirt for the 2007 Pleasanton Highland Games. IronMind® | Courtesy of Steve Conway.
"The pro line-up is Ryan Vierra, Dave Brown, Sean Betz, Larry Brock, Harrison Bailey III, Andrew Hobson and new pros Eric Frasure and Daniel McKim. It should be a great comp . . . Eric is ready to tear up the pro class and Daniel has some really strong events (stones)," Conway told IronMind®.

Pleasanton has always fielded a premier women's field as well, and 2007 will be no exception, including "last year's US Champ Andrea Thornton, new World Champ Summer Pierson and Canadian Champ Josee Morneau as well as some new faces from back East," said Conway.