Pleasanton '08: U.S. Invitational Heavy Events Championships and IHGF World Hammer Championships
The Caledonian Club of San Francisco proudly presents the 143rd Annual Scottish Highland Games in Pleasanton, California, August 30 - 31, and if that's not enough to make all top Highland Games athletes and competitors run for their kilts, Pleasanton will also be hosting the International Highland Games Federation (IHGF) World Hammer Championships.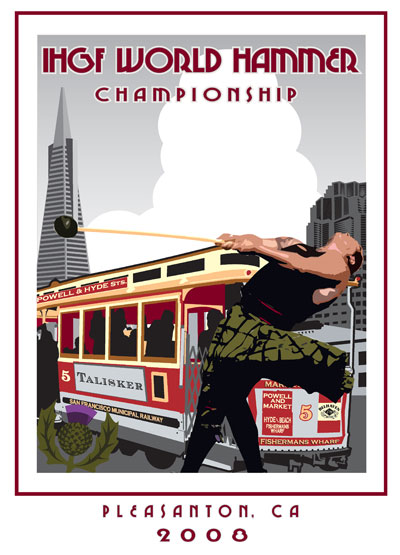 Big Throws by the Bay . . . The Caledonian Club of San Francisco presents the card for Pleasanton 2008, featuring some of the world's best Highland Games athletes. IronMind® | Artwork courtesy of Steve Conway.

Here's this year's field in the professional class:

Harrison Bailey III
Sean Betz
Larry Brock
Mike Pockoski
Eric Frasure
Scott Rider
Bert Sorin
Ryan Vierra

With top talent and big titles on the line, this is how Athletic Director Steve Conway sees things unfolding:

"This should be a very interesting year, with some of the best athletes in the world competing for the combined titles. Last year's hammer champion, Larry Brock, is coming into 2008 with a massive +120-foot heavy hammer throw and a +148-foot light hammer. Sean Betz also has a +120-foot heavy hammer throw, along with a +148-foot light hammer throw. Young Eric Frasure leads the way for the heavy hammer sporting a +122-foot throw in April at the Woodland Scottish Festival in Sacramento, California.

"Bert Sorin is a newcomer with some huge throws in the hammer early this year at the Loch Norman Highland Games, and of course you can never count out five-time world Highland Games champion Ryan Vierra, who will be geared up for the title.

"Harrison Bailey, from Pennsylvania, will be coming into form and could be the sleeper to watch out for as he has thrown some great distances this year. Harrison is coming off some injuries, but he is in form now. Newcomer Mike Pockoski finished fifth in last year's Games at Pleasanton and is hoping to improve upon that.

"Scott Rider, from England, is the 2007 Braemar Games champion, and he has been improving every time he steps on the field.

"This should be an interesting battle between some of the veteran performers and the up-and-coming rookies."

Always a good time, the Pleasanton Highland Games offer something for everyone in your family, and if you're a heavy events fan or want to see what they're like, this line-up includes some of the best in the world.

For details, please check the official Caledonian Club of San Francisco website.