Pittsburgh Barbell Club: Winter Classic
Calling all weightlifters: Make good on your New Year's resolution and if you're in the Pittsburgh area, get ready to lift, load or cheer at the Allegheny Mountain Association Winter Classic at the Martial Arts & Sports Complex in Bridgeville, Pennsylvania on January 29.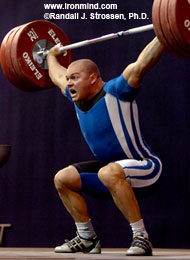 Just because 2004 Olympic gold medalist Milen Dobrev (Bulgaria) won't be there doesn't mean that you can't be: It might be the next step toward making an Olympic team yourself. IronMind® | Randall J. Strossen, Ph.D. photo.
This meet is "open to all USA Weightlifting-registered athletes." Please contact Rege Becker (rbecker@ppg.com) or Kathie Brenneman (k.brenneman@worldnet.att.net) for details.