Phil Pfister Speaking in Columbus, Ohio Tonight
Three elements - Phil Pfister, the Arnold and MILO® - converged in 2006 and changed the world of strongman, and tonight Phil Pfister, winner of the 2006 World's Strongest Man contest, will be speaking to a group of Ohio State University students, talking about what it takes to become a champion athlete.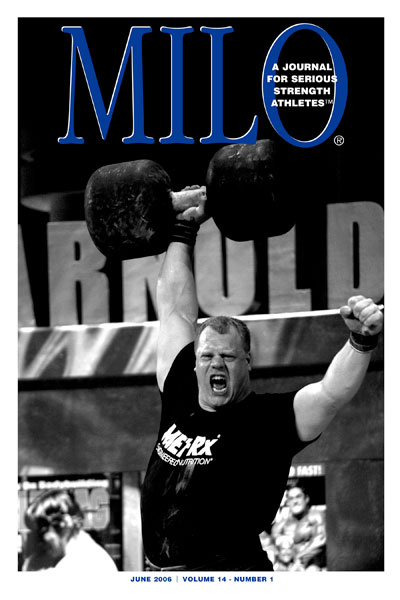 The moment it happened: When Phil Pfister blew the doors off the Circus Dumbbell at the 2006 Arnold strongman contest, MILO® publisher Randall Strossen knew that what he had just seen was even more than a really big guy pressing a huge dumbbell at the world's largest multi-sport and fitness expo - what had just happened, Strossen would later explain, was that Phil Pfister had demonstrated that he had what it took to win the event that is the crown jewel of the strongman world, the World's Strongest Man contest. Six months later, Pfister made Strossen look smart, because that's just what he did, the first American to pull this off since the strongman icon Bill Kazmaier. IronMind® | Randall J. Strossen photo.

Phil Pfister now works for Chesapeake Energy, while he remains a top strongman competitor, and tonight, at the Gateway Theater (1550 North High Street), near the Ohio State University campus, Mr. Pfister will be speaking at 7:00 p.m.

Playing his cards close to the vest, Phil Pfister would not say much about how he expected to do at this year's Arnold, but IronMind®'s guess is that the big man from Charleston, West Virginia, will once again light up the place, so plan to attend the Arnold Sports Festival and see it for yourself.