Phil Pfister: More TV Shows
Even if you don't have a TV, you've got to be enjoying the fact that the 2006 MET-Rx World's Strongest Man winner - Phil Pfister - is making the talk show rounds, and his next appearance will be on the Megan Mullally Show.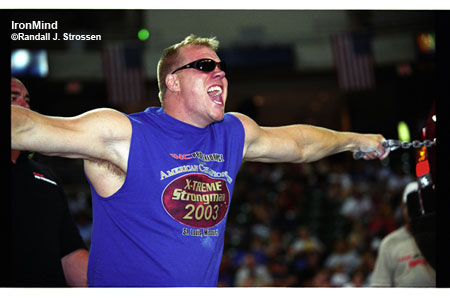 Going Hollywood . . . Phil Pfister will be on the Megan Mullally Show on Monday - check local listings for the time in your area. IronMind® | Randall J. Strossen, Ph.D. photo.
Phil's down in Los Angeles today, where the show will be taped, and it will be shown on Monday, October 16, so be sure to catch it.

As for the champ, himself, Phil told IronMind® that he is already thinking about next year. "I am starting to get some traction now," Pfister said. "I think I have a lot of room for getting stronger."