Pfister and Siders Lifting In Atlanta Area
Brian Siders needs no introduction to powerlifting fans, and strongman fans know that besides competing in the Arnold Strongman contest the last two years, Brian is ace American strongman Phillip Pfister's training partner.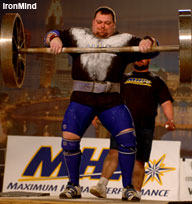 Brian Siders got off to an impressive start in strongman, making his debut at the 2005 Arnold. IronMind® | Randall J. Strossen, Ph.D. photo.

What not everyone knows, though, is that Phil Pfister, historically not the strongest strongman in the gym, has been working on the powerlifts, and to show you what they've been up to, Phil and Brian will be lifting the Qwest American Invitational on April 29 and 30, a USAPL contest.

Meet director Sherman Ledford said that this contest is the first of its kind, with "over 10 world champions and cash prizes." Ledford, coach of the USA men's team at the IPF World Championships, said that he wants all top powerlifters to have a chance to see what they can lift in single ply gear in a drug-tested meet. "We want to offer everyone in America this opportunity: break some records, put up a good total, go to our nationals." And if you're good enough, from there, you could go to the IPF Worlds, and compete against lifters representing 40 or 50 countries, Ledford said.

The Qwest American Invitational will be held in the Duluth High School (Duluth, Georgia), outside Atlanta.