Pfister Wins Farmer's Walk, Gillingham Wins Stones, and Hatfield Wins Title
Atlanta, Georgia - He came in with everyone expecting him to do well, and Van Hatfield did just that as he won the MHP Pro Invitational Strongman Competition today.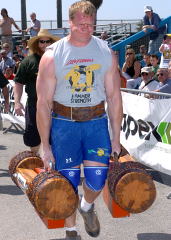 Phil Pfister wins yet another Farmer's Walk. IronMind® | Randall J. Strossen, Ph.D. photo.

With the final two events today, it seemed like Van Hatfield's hold on the title was unbreakable, but there was quite a battle going on for the other top places. Phil Pfister won the Farmer's Walk, which used 350-pound implements on a course that had a turn every 30 feet, and Karl Gillingham won the final events, the stones, leaving Van Hatfield in first place, with 60 points, Phil Pfister in second place, with 55 points, and Karl Gillingham in third place, with 50 points.

The NAS title came down to the wire, reminiscent of the World's Strongest Man contest, because the winner of the last pair on the stones would get the title. Travis Ortmayer won, and Henry Cervenka was the runner-up. Please check the official NAS website for full results.