Pfister: "Strongman is My Fate"
With the invitations to the 2007 MET-Rx World's Strongest Man contest going out, what's the word from the 2006 winner, Philip Pfister, the man who says, "Strongman is my fate . . . this is my destiny."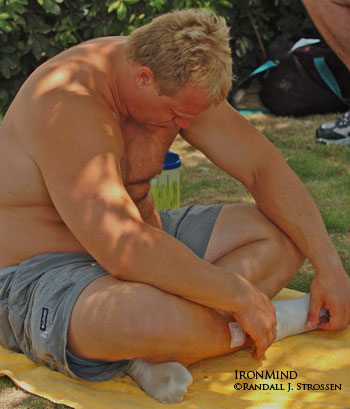 The meditative side of Phil Pfister. An hour later, Pfister would be in the Truck Pull, which this writer felt was the critical event in Pfister's bid for the 2006 World's Strongest Man title. IronMind® | Randall J. Strossen, Ph.D. photo.

"It's a little out of my control," Pfister said, sounding more like Caine from "Kung-Fu" than what you'd expect from a guy who fills up 4XLT Carhartt jackets and flips half-ton tires on his days off from the Charleston Fire Department.

"This is the path before me and I can't really step off it . . . every now and then there's a little bench on the side, and I can stop and sit on it."

Now that he's won the biggest title in strongman, those benches include talk shows, game shows, endorsements and motivational speeches, but none of that has changed the work ethic that made Phil Pfister king of the hill last year. And a big part of this is doing the three-hour drive to Columbus, Ohio every week to train at Nick Osborne's facility, the spawning ground for last year's winning formula.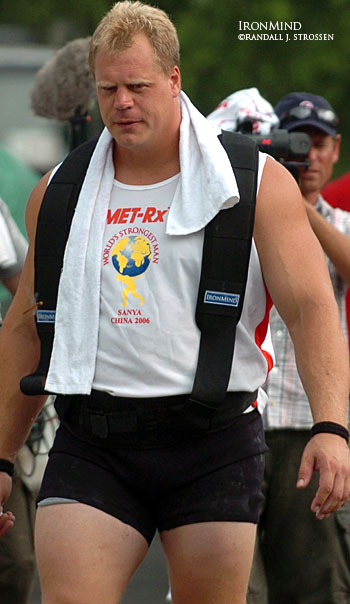 Stalking the event, hunting for the title . . . Phil Pfister is about to be called to the line for the Truck Pull at the 2006 MET-Rx World's Strongest Man contest. IronMind® | Randall J. Strossen, Ph.D. photo.

"I hope to defend my title," Pfister told IronMind®, explaining that he thinks he will be in even better shape this year than he was in 2006.

"I will be a little leaner," Pfister said. "Not so well insulated around the middle." But don't think this is just about looks.

"This is the evolution of my training," said Pfister. "It's the next stage and it's very tough. I am working on my strength, agility, speed and athleticism," in what are three-and-a-half hour workouts on back-to-back days, sandwiched in between the three hour drive.

MILO® readers know the story about Randall Strossen's first conversation with Phil's mother in law, who confidently predicted his victory and was planning the celebration party . . . when Phil first went to World's Strongest Man in 1998.

Fast forward a few years, and her call was right on the money. Asked about this, Pfister said, "I always knew that I had a real chance to win World's Strongest Man if I kept at it and if I stayed healthy."

And now that he's done it once, it sounds like Phil Pfister is setting up for the encore.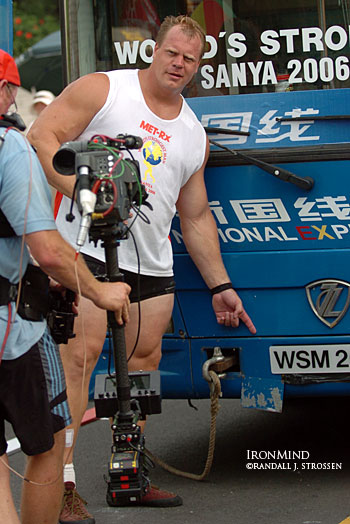 He'd done more than just won the Truck Pull: Phil Pfister was suddenly in the driver's seat at the 2006 World's Strongest Man contest and now he's looking to repeat this year. IronMind® | Randall J. Strossen, Ph.D. photo.