Pfister Prepping For Poland, WSM
MILO® cover guy Phillip Pfister said that he's training hard, preparing for the WSMSS contest in Poland next month, and that he's got his eye firmly fixed on this year's World's Strongest Man contest.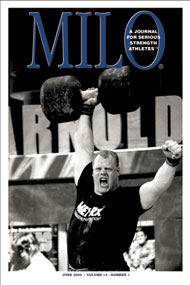 MILO® cover guy Phil Pfister nailed the Circus Dumbbell at the 2006 Arnold, igniting the crowd in the process. Pfister told IronMind® that he considers the Arnold and World's Strongest Man to be the two top contests in the field. IronMind® | Randall J. Strossen, Ph.D. photo.

Part of Mr. Pfister's special World's Strongest Man preparation involves driving from West Virginia to Columbus, Ohio once a week to train for a few hours with Nick Osborne, followed by another few-hour training session the next morning, before driving back home. Pfister sees the effort as well worth it because he's aiming to do very well at this year's World's Strongest Man contest, the top dog in the strongman world and a contest that no American has won since the great Bill Kazmaier swept it in 1980, 1981 and 1982.

"I am back to my Arnold body weight of 350," Pfister to IronMind®, a high-water mark for the fireman who lights up strongman like no other competitor, being such a crowd favorite that after watching him perform in St. Louis one year, IronMind®'s Randall Strossen dubbed to Pfister "the future mayor of St. Louis."

Looking down the road, Pfister said that he plans "to do the full WSMSS circuit next year," but for now, it's Poland, and then the 2006 World's Strongest Man contest.