Petersson Wins Again in Iceland . . . Magnus Ver is Second
Stefan Solvi Petersson finished off the East Shore Giant - East Coast Giant competitions with another win.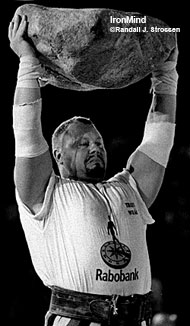 Rock on: Magnus Ver Magnusson, on his way to sharing the overhead rock lift victory with Berend Veneberg and Flemming Rasmussen at the 1997 European Strong Men Classic in Hardenburg, Holland. IronMind® | Randall J. Strossen, Ph.D. photo. If you are interested in the full contest report, please see MILO Volume 5 - Number 2 (September 1997).

Set up as two contests staged in a series of small towns on the East Coast of Iceland, the East Shore Giant contest began on Thursday and ran for two days, with six events spread over four different towns. The East Coast Giant contest began yesterday, also had six events spread over four different towns, and it concluded today.

He said it was to round out the field, but we couldn't help but wonder if Magnus Ver Magnusson, who promoted these contests, joined the action just to show that even if he only trains once or twice a week, he's still no slouch when it comes to strongman. The four-time World's Strongest Man winner finished second overall in the East Coast Giant contest, and he won three events - one of which was the overhead stone lift. "It's my favorite overhead lift," he said, and it's an event that he has won in major strongman contests when he was in his prime as a competitor.

George Odmundsson was third place.