Peter Mortensen: Homebuilt Strength
In 2008, IronMind received a photo and video clips of Peter Mortensen doing one-arm pullups on a Rolling Thunder—needless to say, Peter had our attention!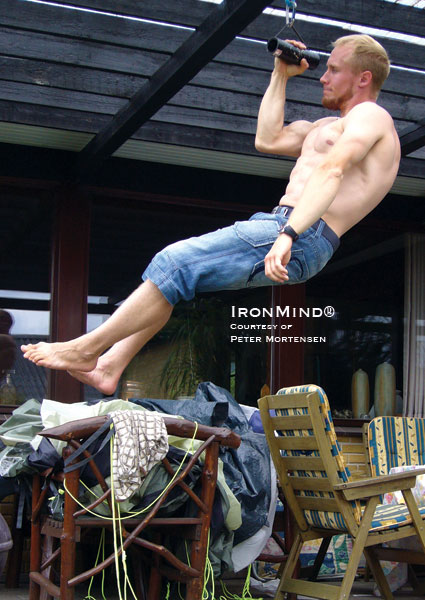 Peter Mortensen, a rock climber from Denmark, does a one-arm pull-up on a Rolling Thunder® Revolving Deadlift Handle: "There seems to be a strong correlation between strength on revolving handles or dumbbells (especially thick handles) and climbing hand strength . . .," Peter told us. Reprinted from the 2009 IronMind® catalog - Volume Eighteen, with permission. IronMind® | Photo courtesy of Peter Mortensen.


As indicated by that performance, Peter Mortensen is capable of some remarkable feats of strength but what's also evident is that as fierce as he is in his workouts, you can also feel a tremendous sense of joy and even though you are watching the limits of human exertion, you feel as if Peter is playing. This man has the passion.

Just heard about Peter's website homebuiltstrength.com and if you're feeling sluggish, are thinking that you'd rather sit on the couch than get moving or are thinking it's fine to look and feel like a beached whale, do yourself a huge favor and take a look at a couple of Peter's videos: If you don't get inspired, maybe you should have someone check your pulse and call 911 before it's too late

### 



The IronMind Forum: discuss this article, talk strength, get help with your training.

You can also follow IronMind on Twitter.