With great sadness, we received word from Steve Jeck that Peter Martin passed away.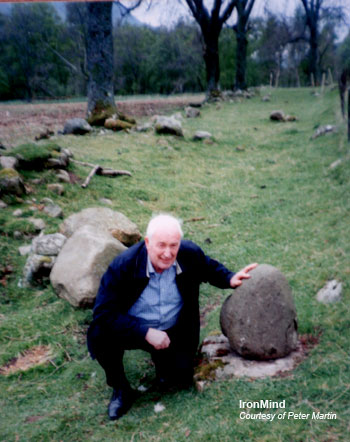 Peter Martin with the testing stone of the Fianna. IronMind® | Photo courtesy of Peter Martin.
Steve Jeck introduced IronMind® to Peter Martin, which in turn allowed us to share his knowledge and passion for the world of manhood stones with others - not just their physical challenge, but also their history and enchantment.

"Through my love of strength I was drawn to stone lifting," Steve Jeck said, "and through my love of stone lifting I was drawn to Peter Martin. Knowing Peter and being able to call him my friend is one of the great honors of my life. I know Peter was as humbled and grateful as I have been to see so many hearty souls seek out and lift some large rock - and point to Of Stones and Strength as the inspiration. It is stated in our book: 'Because stones last, the stories of the men who lift them last as well.' To which I now offer a sincerest and heart-felt 'Amen.' The best tribute to Peter is to tell someone to get Of Stones and Strength," so that they can experience firsthand the wonder and joy he felt for these great stones."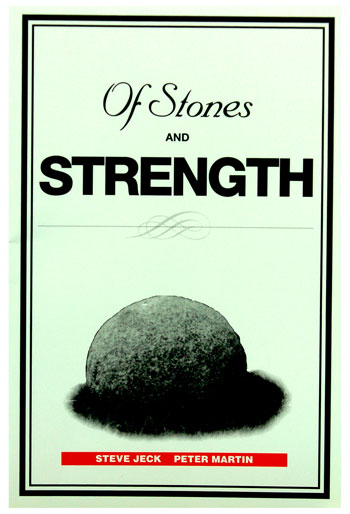 Of Stones and Strength by Steve Jeck and Peter Martin is a lasting monument to Peter Martin's bond with the magical world of the world's great manhood stones. IronMind® photo.

IronMind® production editor Elizabeth Hammond said, "We have been richly blessed knowing Peter. We'll greatly miss his correspondence and photos and MILO® articles and will be forever thankful for his enlightening us about manhood stones, the Fianna, Ossian, and all their surrounding mystery and romance. He has touched the lives and awakened the spirits of so many through MILO and Of Stones and Strength and inspired not an insignificant number of journeys to Scotland."

Rest in peace.