Perfect Sixes at the Olympics: The Weightlifters Who Couldn't Miss
Going six for six is always a thrill for a weightlifter, but when you do it at the Olympics, it's even better.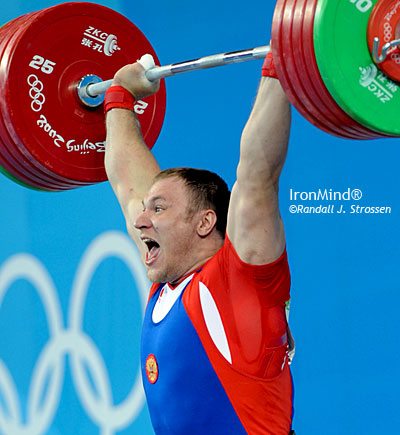 Much to his delight, Evengy Chigishev completed this 250-kg clean and jerk at the 2008 Olympics, putting an exclamation point on a perfect performance by the personable Russian weightlifter. IronMind® | Randall J. Strossen, Ph.D. photo.


Continuing where he left off in his last installment, top American weightlifting coach Jim Schmitz reviews perfect performances at recent Olympics, including Beijing 2008.

Go directly to the latest "Schmitz on the Lifts," or go to the Training Articles button at the top of the IronMind home page and select "Schmitz on the Lifts."