Gunsan, Korean - Peng Feng (China) didn't get derailed when he missed his opening snatch in the 94-kg category at the Asian Junior Weightlifting Championships - he came back to make the weight, more, and then he ended the day winning the class.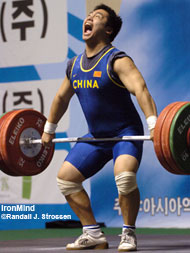 Peng Feng (China) is about to pop the 151-kg snatch that put him in the driver's seat at the Asian Junior Championships today in Gunsan, Korea. IronMind® | Randall J. Strossen, Ph.D. photo.
Nobody likes to miss his opener, but you can bounce back as Peng Feng proved today. After missing 145 kg, he made it on his second attempt and then he made 151 kg on his third attempt, which was good for the gold medal in the snatch. Zou Zhenbo, Peng's teammate, finished third in the snatch, but he would take a shot at overcoming Peng's lead in the total.

Peng ran through three good clean and jerks - 175, 181, 185 - corkscrewing his way up in the clean, so that by the time he was set to jerk, he had rotated about a quarter turn counterclockwise. Zou had missed the jerk on 181, come back and made the weight, and now with everyone else finished, he had one attempt left and he needed 10 kg to tie Peng and win on bodyweight. After a good clean, he went into a deep, deep split trying to jerk the weight and for a moment it looked as if he might have it, but then the bar came crashing down and Zou had to settle for the silver medal in the one-two Chinese finish.