Paul Knight Certifies on the No. 3.5 Captains of Crush® Gripper
He's been on the move—blowing through the No. 3 Captains of Crush® (CoC) Gripper a week ago and now, highlighting his grip strength, he has served notice that he's on the short list of the world's strongest men on grippers: Paul Knight has just certified on the No. 3.5 Captains of Crush® Gripper.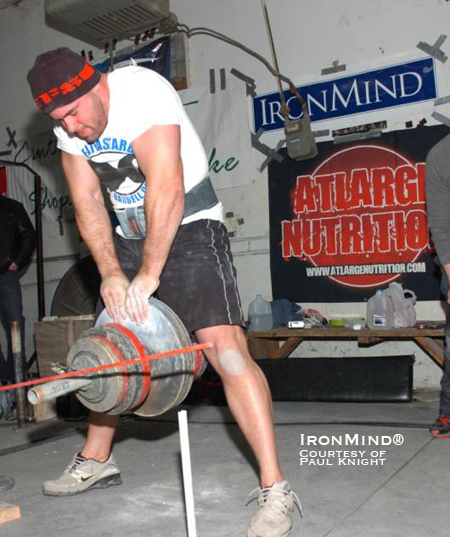 "This photo was taken during a grip contest at Metroflex gym in Arlington, Texas," Paul Knight explained. "In this picture I was pinching 214.8 lb. on David Horne's Euro pinch device which was the two-hand pinching event in the contest along with grippers, bending, the IronMind® Apollon's Axle™ deadlift and a medley. I placed 2nd to Jedd Johnson, a grip monster who is also certified on the CoC #3 and IronMind® Rednail™. This contest was sponsored by IronMind®. Thanks, Randall, for helping out with the contest." IronMind® | Photo courtesy of Joe Musselwhite.


The 6-foot tall, 225-pound Paul Knight buys natural gas pipeline right-of-way for Chesapeake Energy, and he got off to a fast start in the grip-strength world: "I have been training grip since ~1999 when I bought my first gripper from IronMind®. I bought a CoC #2 which I could not close and it took me about 2-3 weeks before I could shut it. I had to train for another 4 years before closing and then certifying on the CoC #3.

"My plan was to make my #3.5 certification attempt at the Summer Strong III in South Carolina as Richard Sorin was holding a big birthday bash at his establishment (Sorinex), but unfortunately some things came up and I couldn't make it. I do wish and hope that Richard had a happy birthday and that his event was a success. I wish I could have been there and sorry, Richard, for not making it out."

After recently re-certifying on the Captains of Crush® No. 3, Paul Knight felt that he was peaking in terms of grip strength and so he wanted to take a shot at certifying on the No. 3.5 CoC while he was at the top of his game. Working on a very tight schedule, Eric Milfeld kindly jumped in when IronMind® made the request, and he agreed to be Paul's official referee.
"Paul's first attempt with the gripper was too shaky to be conclusive, but on his second attempt he held it nice and steady and left no doubt about it," Eric reported to IronMind®.

Paul joins IronMind® in thanking Eric for making this attempt possible. Paul also thanked his "lovely wife Brooke for putting up with all my grip training."

Congratulations, Paul Knight: your name has been added to the official certification list for the Captains of Crush® No. 3.5 gripper.



Want to talk strength? Join the IronMind® Forum!

You can also follow IronMind® on Twitter.