Paul Fleschler: New Men's Resident Coach for USA Weightlifting
Congratulations to Paul Fleschler, who is now the Men's Resident Coach for USA Weightlifting at the US Olympic Training Center.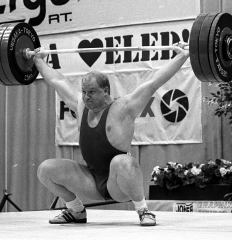 Asked about his favorite lift from his own competitive career, this is the first one Paul Fleschler named, and for good reason: Lifting in the 100-kg class, Paul hit this PR 152.5-kg snatch at his first World Weightlifting Championships, in 1990 (Budapest, Hungary). IronMind® | Randall J. Strossen, Ph.D. photo.
Paul comes from the long line of Chicago-area lifters who made good, and besides saying that he was very happy to be chosen for this job, Paul was quick to thank his own coaches (Roger Nielsen, Dragomir Cioroslan and Frank Eksten) for all he learned from them along the way.

Paul said that his training philosophy draws from diverse sources and the resulting hybrid won't be limited to the just the classical lifts, for example, and it won't be the same for each lifter since he will be working with lifters coming from varied backgrounds and having different sets of strengths and weaknesses.

Paul said he has to be open to seeing what works, as he prepares lifters to be ready mentally and physically to do their best on the competition platform, and for him to be successful, he can't just put blinders, and ignore the many options and choices facing his athletes. "That's what being an American is all about," Fleschler said.