Pat Povilaitis: His Hand is Tougher Than a Mountain Lion Trap
For anyone who lives in mountain lion country, or has at least read about or seen a picture of a mountain lion, you know what a serious predator we are talking about: a male mountain lion might weigh around 145 pounds (66 kg); they can leap about 20 feet (6 m) vertically or horizontally, and can drop about 50 feet (15 m) on prey, which could be something as large as an elk.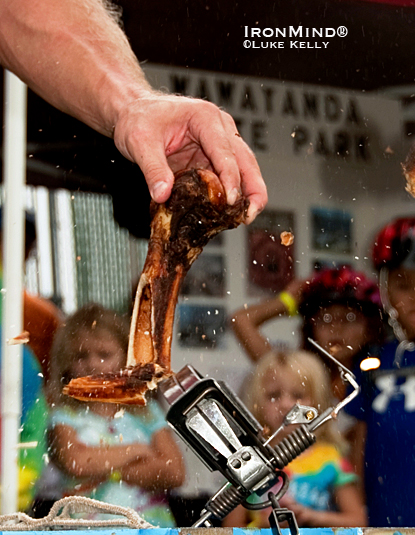 "Here's the pic of how I demo the trap lately; that is a full size pork femur. The trap shown here is twice the spring tension of the one you saw me use at AOBS," Pat Povilaitis told Randall Strossen. IronMind® | Luke Kelly photo.


So when a person's hand can withstand the force of a mountain lion trap, you know what kind of force we're talking about.

Enter Pat Povilaitis—sure, he's been certified on the No. 3 Captains of Crush® Gripper and on the IronMind® Red Nail™, plus he's a noted practitioner of traditional feats of strength who can bend heavy horeshoes in his bare hands as easily as most people can twist a wire hanger. But this happily married, proud father of two—who works as an engineer ("designing the equipment that makes wireless networks work") for a major telecommunications company—has all the markings of a man with more than a little common sense. So, what's with Pat putting his hand in a mountain lion trap . . . on purpose? IronMind® just had to ask.


Do Not Stick Your Hand Into Animal Traps
by
Pat "The Human Vise" Povilaitis

This is not a joke: DO NOT STICK YOUR HAND INTO ANIMAL TRAPS! I believe the only reason I have escaped harm to this point is due to years of training with [Captains of Crush®] #3 and #4 grippers, bending heavy horseshoes and nails, and literally a lifetime of grip-related work and training. The bone structure of my hands is not normal, period, end of story.

I started doing this feat after observing my friend and mentor Dennis Rogers stick his fingers into a small fox trap as part of his message. As usual, testosterone took over and my immediate thought was, "I can go bigger." I can go into much greater detail if you want, but suffice to say I began small and tried a huge progression of traps until I made it to the mountain lion trap. This is basically the biggest trap shy of a bear trap that is available . . . anyone claiming to stick their arm in a bear trap is using either a mechanically blocked version or one with weakened springs. No fakes here!

I first performed this publicly at Dr. Ken Leistner's house after a raucous training session. I knew I had a winner when one of Doc's trainees had to excuse himself and said he got physically ill watching me do it. It is car crash, train wreck, explosion rolled into one. My performances are a combination of entertainment with a strong drug-free, work-hard, anything-is-possible message. I thought this feat was a perfect way to grab folks' attention and underscore what I say about overcoming fears, stay focused etc.

I've done the mountain lion trap about three dozen times in appearances. I do not like to do it. It really hurts, in fact a month later it still hurts. I try to limit its use to not more than once a month, but occasionally find myself doing it in successive weeks. I had one occasion where 'equipment malfunctions' caused me to do it three times in five minutes. This was the exact opposite of fun. I have recently switched to a trap with double the spring tension of the original.

I've done all kinds of tests, but the most visually awesome one is shown in the pic I sent you. It is a full size pork femur, and as you can see it doesn't last very long. I've also stuck a titanium bicycle handlebar into it to see how it would fare and it left an 1/8" indent on both sides. Anyone who understands titanium tubing knows how hard that is. I had a discussion with my friend Jeff Lenosky, who is a professional mountain bike stunt rider, about this. I told him what I did, and was, "thinking maybe I should stop sticking my hand into traps." He got very concerned for my well-being and said I should, "definitely stop doing that, do you know how much those handlebars cost." So much for concern . . .

Anyway, my message to IronMind® folks is as follows: Train hard, smart, consistently, and above all drug-free and you can accomplish some really amazing things.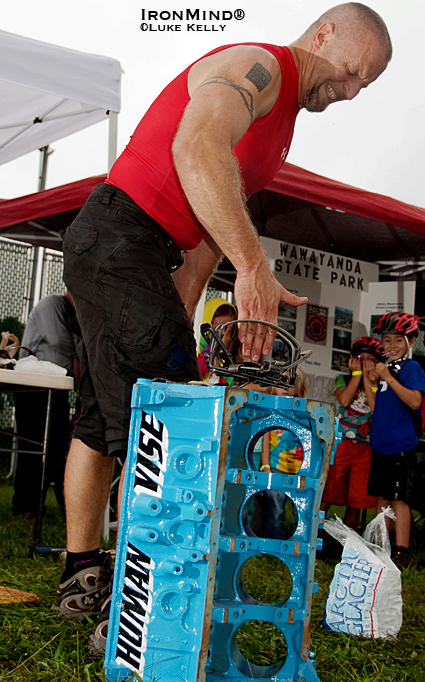 Pat "The Human Vise" Povilaitis has developed a hand that can withstand the punishing attack of mountain lion attack, but remember Pat's words: "Do not stick your hands into animal traps!" IronMind® | Luke Kelly photo.
Want to discuss this article? Join the IronMind® Forum!

You can also follow IronMind on Twitter.