Doha, Qatar - It was a battle all the way, and a clean and jerk from the B session loomed large, but Nizami Pashayev (Azerbaijan) took everything in stride and won the 94-kg category at the World Weightlifting Championships with a solid 401-kg total.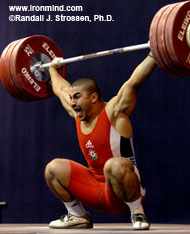 Nuzami Pashayev sticks this 185-kg snatch, on his way to winning the 94-kg category at the World Weightlifting Championships. IronMind® | Randall J. Strossen, Ph.D. photo.

There was a lot of interest in seeing Milen Dobrov (Bulgaria), the defending Olympic champion, return to competition, but when he missed his first snatch, 176 kg, it was an early indication that he had not returned to top form. He took the weight again on his second and there was no question of either his intentions or the result as he sank the putt. Bakhyt Akhmetov (Kazakhstan) ripped 177 for a good opener, as did Pashayaev. Mikalai Patotksi (Belarus) upped the ante with a success on 178 for his first attempt, and Dobrev finished off his snatches with a good 180-kg effort. Patotski went for the lead with 181 on his second attempt, and it was good, and Akhmetov tried to leapfrog him with 182 on his second attempt, but missed. Pashaev succeeded with it on his second attempt, but it didn't last long because Patotski made 184 for his third snatch. Pashaev responded with 185 kg on his third, and the gold medal in the snatch was his.

The clean and jerk was a battle on two fronts: the fight within the A session and the 220-kg clean and jerk that Hernandez Coba (Cuba) had posted in the B session.

Mukhamat Sozaev (Russia) opened with a good 210, as did Dobrev. Akhmetov had missed the jerk with this weight on his first attempt, but he came back for a success with it on his second attempt. Pashaev, eying the gold in the total, opened with a good 212, and Sozaev answered with a good 215 on his second. Dobrev had the same weight overhead, but lost the jerk, and Akhmetov, although a little shaky on the jerk, handled the weight for his third attempt. Pashaev wasn't planning on just handing the title to anyone, and he nailed 216 on his second attempt, and Dobrev made a good lift with 218 for his last clean and jerk. For as strong as he looked, it was surprising that Pashaev missed 220 on his third attempt, when he couldn't get under the bar. There was only one lift left and Coba's B session 220-kg jerk still stood as the high water mark, but Sosaev called for 221 and he hit it out of the park.

Final results: Pashaev, gold, with 401; Sozaev, silver, with 398; Dobrev, bronze, with the same 398; and just to show how close it had been, Akhmetov was fourth, with 397.