Overhead Squat: "America's Favorite Exercise"
Until recently, unless you were an Olympic-style weightlifter, it's unlikely that you would have heard of, let alone done, overhead squats, but could it be that this will become America's favorite exercise?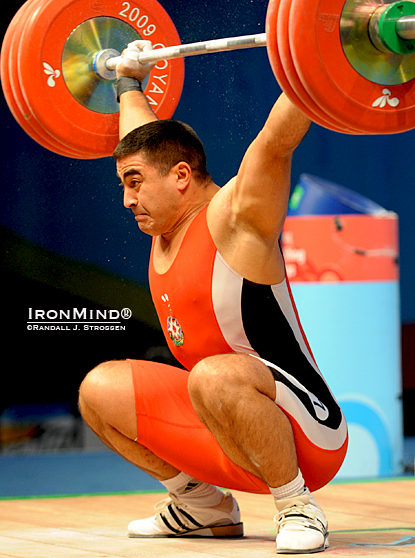 94-kg Nizami Pashaev (Azerbaijan) always good for some for some colorful moments and big lifts, nailed this 177-kg snatch at the 2009 World Weightlifting Championships, illustrating what would be the bottom position for an overhead squat. Jim Schmitz says, "Because the overhead squat is such a great exercise for developing balance, flexibility, coordination, and strength, it has finally been 'discovered' by strength coaches, personal trainers, and CrossFitters—someday it really may be 'America's favorite exercise!' IronMind® | Randall J. Strossen photo.


With that sort of introduction, aren't you itching to include overhead squats in your training routine?

Three-time Olympic weightlifting coach Jim Schmitz tells you how, so follow the Training Articles menu at the top of the IronMind home page to Jim Schmitz on the Lifts or click this link to go directly to Overhead Squat by Jim Schmitz.

###


Want to comment on this article or just want to talk strength? Join the IronMind Forum!

You can also follow IronMind on Twitter.