Talking about the upcoming Oulu Grand Prix, Ilkka Kinnunen, said, "The competition events will be tough and hard," which seems expected for just about any Finnish strongman contest.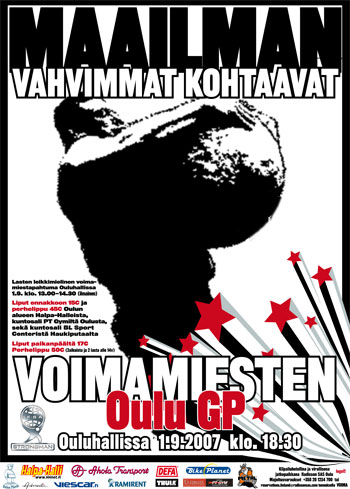 Longtime strongman promoter Ilkka Kinnunen predicts that the sparks will fly at the upcoming Oulu Grand Prix. IronMind® | Art courtesy of Ilkka Kinnunen.
"Events include 150-kg Farmer's Walk for 60 m, Log Lift, Hercules Hold with two Ford Mondeos, Truck Pull, Medley with Duck Walk, Loading and Mini Truck push," said Kinnunen.

Organized by Fitness Media, the contest,"will be shown biggest channel in Finland MTV3 and MAX; also it will be airing on EUROSPORT," Kinnunen said, adding, "The organizer is expecting a full house of 6,000 people at the show, and as we are in Oulu city, which has over 15 years history for the strongman competitions, it will happen."

Here is the starting field:

1. Andrus Murmets
2. Vidas Blekaitis
3. Robert Schepanski
4. Jarno Hams
5. Jani Illikainen
6. Etienne Smith
7. Agris Kazelniks
8. Juha-Matti Jarvi
9. Jani Kolehmainen

One more competitor is yet to be named, Kinnunen said, and a tough contest is predicted: "The athletes are extremely good shape on that time, because most of them are going 1-1/2 weeks after for the IFSA Worlds."