Athens – Pyrros Dimas, who ended his competitive weightlifting career last night to the overwhelming recognition of his countrymen, received another round of adulation as the street corner outside the Olympic weightlifting stadium was packed with camera crews, reporters, photographers and fans waiting to receive Dimas as he exited the competition site.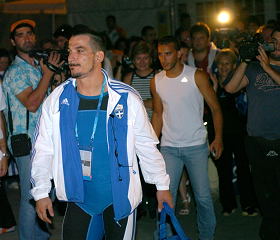 Pyrros Dimas (Greece) wades through a sea of admirers Saturday night, following the weightlifting competition. IronMind® | Randall J. Strossen, Ph.D. photo.

Dimas ended his brilliant weightlifting career by adding an Olympic bronze medal to the three golds he had won in Barcelona, Atlanta and Sydney, and it was a welcome counterpoint to the situation developing around another Greek weightlifter, Leonidas Sampanis.

Sampanis had originally placed third in the men's 62-kg category, but had tested positive, as rumors swirled. The B-sample corroborated the finding, but things still weren't over, as Sampanis pleaded his case before an IOC disciplinary group. Sampanis also held an emotional press conference outside the weightlifting competition venue yesterday afternoon, both proclaiming his innocence and asking for the same kind of support now that he had gotten when he was awarded the bronze medal.

Early this morning an IOC executive group ruled that Sampanis should be stripped of his medal, making him the third weightlifter to test positive in the competition and adding to the pall drugs cast over sports.