"One Guy Is Stronger Than All"
How many times have you heard about the supposedly strongest guy at whatever? Well, when Bill Kazmaier says, "One guy is stronger than all," it's time to listen up.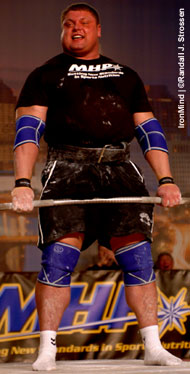 Zydrunas Savickas hauls up almost half a ton on the MHP deadlift at the 2006 Arnold. IronMind® | Randall J. Strossen, Ph.D. photo.

"I'm glad 25 years have passed since I was competing," the Kaz told IronMind®. "He's got it all: shoulders, chest, legs, back."

Bill Kazmaier, for all his modesty, remains a magnet and a head-turner in any crowd of strongmen or strong men, for that matter, and while he might not be on the field of play as a competitor any more, watch for him as commentator at the biggest contests around.