Om Yun Choi: World Record Clean and Jerk
Incheon, South Korea—What a way to open men's weightlifting at the Asian Games: Om Yun Choi (North Korea) blasted up a 170-kg clean and jerk to break his own world record in the 56-kg category.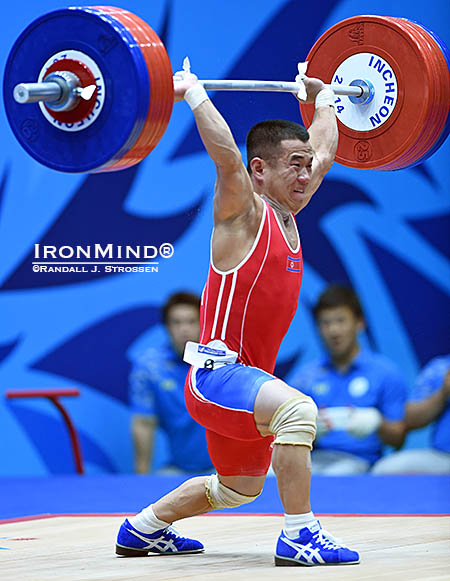 Finishing off the jerk, Om Yun Choi pounded this 170-kg lift, once again showing that triple-bodyweight clean and jerks are familiar territory for him. IronMind® | Randall J. Strossen photo


Talk about talent laden, this class featured Om Yun Choi (defending Olympic and world champion; world record holder in the jerk at 169 kg), Wu Jiangbiao (2012 Olympic silver medalist) and Thach Kim Tuan (2014 Junior world champion), so sparks were expected to fly.

Om Yun Choi might be a cannon when it comes to clean and jerks, but with the field he faced, he had to cut his losses in the snatch, and that's just what he did with a gritty success with 128 kg on his second attempt—he went for 131 kg on his third attempt but at least tonight, it was just too heavy for him.

Thach Kim Tuan (Vietnam) and Wu Jingbiao (China) were in the opposite boat and they dueled for the best snatch: Thach Kim Tuan ended with 134 kg and Wu Jingbiao got 133 kg, giving both lifters the head start they wanted going into the clean and jerk.

Om Yun Choi opened with 160 kg and he had to take a couple of steps to control the jerk, but he succeeded and moved into second place. Wu Jiangbiao had made 155 kg on his opener, and took 160 kg on his second attempt in a bid to overtake Om Yun Choi, but he couldn't stand up with it. 

Thach Kim Tuan had made 156 kg on his first attempt and then made a good lift with 160 kg on his second attempt, to overtake the North Korean lifter. Looking for the lead, Wu Jiangbiao called for 161 kg on his third attempt, but once again, after racking the bar and starting up, he couldn't quite stand up with it. The Vietnamese lifter still wanted the lead, too, and after a good clean with 162 kg, he missed the jerk on his third attempt.

It was all Om Un Choi now and he made 166 kg look easier than his opener, and there was more coming: on his third attempt, he called for 170 kg for a world record to give his gold medal some extra sheen.

###



Visit the IronMind Forum: talk strength, discuss this story. Strongman, grip, Highland Games, Olympic lifting, stones and more.

You can also follow IronMind on Twitter and on Facebook.