Om Wins the 56s, Thach Bags 3 Junior World Records
Almaty, Kazakhstan—The men's 56-kg class as the 2014 World Weightlifting Championships put another win on the books for Om Yun Chol (North Korea), and Thach Kim Tuan (Vietnam) made his mark with three Junior world records and the silver medal in the total.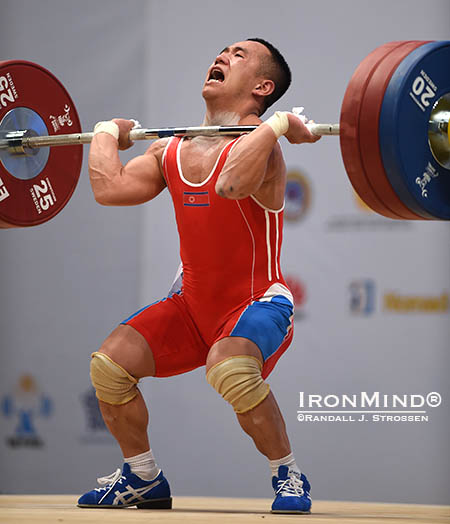 After missing the jerk on his opener (162 kg), Om Yun Chol (North Korea), came back to make it and then, on the last attempt in the class, hit this good lift with 168 kg for the gold medal in the jerk and in the total. IronMind® | Randall J. Strossen photo


China's Long Qingquan returned to action and was in good enough form to leave with the bronze medal in the total in this tightly-contested class.
###



Visit the IronMind Forum: talk strength, discuss this story. Strongman, grip, Highland Games, Olympic lifting, stones and more.

You can also follow IronMind on Twitter and on Facebook.