Olympic Weightlifting at the FitExpo
High school athletes and coaches who would like to learn more about Olympic weightlifting have a great opportunity at the upcoming FitExpo in Pasadena, California.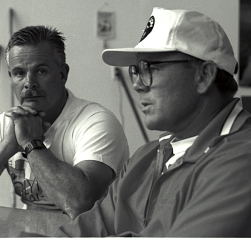 Steve Gough (left) and Mike Burgener (right) are looking pretty serious: In 1991, Mike Burgener came up to the Fairfax Weightlifting Club (San Anselmo, California) to talk training with Steve Gough. Under Steve's leadership, Fairfax was producing such top junior weightlifters as Tom Gough, Jasha Faye, Pete Schiano and Tim Logan, so Mike came up to pick Steve's brain. IronMind® | Randall J. Strossen, Ph.D. photo.

The FitExpo runs February 18 - 20 at the Pasadena (California) Convention Center and Friday's program, which is geared toward youth, has something very special going on: USAW coaches Pat Cullen-Carroll and Mike Burgener, along with three of their athletes - Josh Aguirre, Sage Burgener, Nicholas Cullen-Carroll - are conducting a demonstration/seminar entitled "Olympic Weightlifting for the High School Athlete."

So if you're a high school athlete or coach who wants to get an idea of how the Olympic lifts can give you the competitive edge, and how you can get a program started at your school, be sure stop by.

"Olympic Weightlifting for the High School Athlete" is scheduled for 7:30 p.m. February 18th, and for complete details on the FitExpo, please check the FitExpo's official website.

See you there!