Olympic Weightlifting Olympic Test Event
London–Even the last minute withdrawals of Ilya Ilin (Kazakhstan) and Zhou Lulu (China) did not mar the Olympic dress rehearsal for Weightlifting as Competition Manager Matthew Curtain and his team hosted athletes, coaches and technical officials from around the world at London's ExCel Center over the weekend.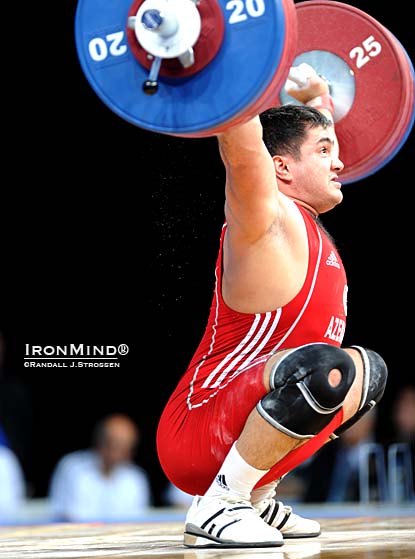 Intigam Zairvov (Azerbaijan) had things pretty much his own way in the men's 94-kg category at the Weightlifting Test Event as London prepares for the 2012 Olympic Games. IronMind® | Randall J. Strossen photo.


In addition to testing all systems for Games readiness, Curtain explained, the test event gave athletes and officials who were unlikely to be in London next summer a chance to have a taste of the Olympic experience.

The test event comprised competition in two men's and two women's body weight categories: 94 kg , +105 kg for the men, and 69 kg and +75 kg for the women.

For the women, Wiriya Suwannartana (Thailand) edged Kang Yue (China) on body weight in the 69 kg category, with both lifters totaling 240 kg, and Yuliya Dovhal (Azerbaijan) edged Lidia Valentin (Spain) 255 kg to 254 kg in the +75 kg category.

Intigam Zairov (Azerbaijan) won the 94-kg category with a 171-kg snatch and a 206-kg clean and jerk, and Peter Nagy (Hungary) won the men's +105 kg category with a 396-kg total when Almir Velagic (Germany) missed with the 220-kg jerk that would have leapfrogged him from the silver to the gold medal.

Hats off to everyone who worked so hard to make this event happen and a special thanks to Matthew Curtain and Maggie Lynes (Weightlifting Services Manager) for their kind, continual assistance throughout the weekend.

See you next summer!

###



Visit the IronMind Forum: talk strength, discuss this story. Strongman, grip, Highland Games, Olympic lifting, stones and more.

You can also follow IronMind on Twitter.