Olympic Weightlifting: Kim Un Guk Nets Another Gold Medal for North Korea
London—In the most central way, Kim Un Guk's victory in the 62-kg class tonight resembled that of his teammate last night, with only the details differing: both won from the front, but Kim Un Guk did it in the A-session and via the snatch.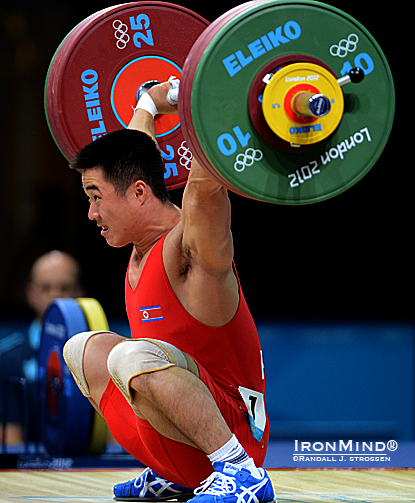 This rock bottom 153-kg snatch gave weightlifter Kim Un Guk (North Korea) an Olympic record plus a commanding lead in the men's 62-kg category at the Olympics today—a lead that he turned into a gold medal. IronMind® | Randall J. Strossen photo.


This class looked to pit the snatch, in the form of Kim Un Guk, against the clean and jerk, in the form of Zhang Jie (China.

Things went according to the script for Kim Un Guk as he sailed through good lifts with 145, 150 and 153-kg, with the last being a new Olympic record. Zhang Jie appeared to be on track to bolster China's chances of pocketing the gold medal when he nailed his opener, 140 kg, and then got 145 kg overhead on his second attempt, only to have it turned down for pressout. That miss seemed to take the wind out of his sails and when he repeated with that weight, the attempt was not close.

Kim Un Guk opened with 170 kg in the clean and jerk, for a good lift, but his split on the jerk looked narrow and shallow, making the jerk look a little awkward. When he took 174 kg for his second attempt, he missed the jerk—it looked soft and tentative—but then he repeated for a success.

With Kim Un Guk finished, the other lifters got to take their best shot at beating his total, or getting as close as they could to it.

Zhang Jie had opened with 174 kg for a good lift, but he missed 178 kg twice—failing in his bid to move from fourth to second place.

Oscar Figueroa (Columbia) appeared poised to really shake up the final order as he had the highest opener, 178 kg, which he punched up, only to walk forward with it and then lose the lift. He repeated with the same weight, once again launching the bar overhead with commanding power, only this time to lose his position under it and collapsing under the load.

Showing the stuff he's made of, though, Figueroa came back from his do-or-die position, making what he needed for the silver medal, not to mention an Olympic record, as he bumped Irawan Eko (Indonesia) on body weight.

Kim Un Guk's 327-kg total put him a big 10-kg ahead of his closest pursuers and besides netting him the Olympic gold medal, it was a new Olympic and world record.

###



Visit the IronMind Forum: talk strength, discuss this story. Strongman, grip, Highland Games, Olympic lifting, stones and more.

You can also follow IronMind on Twitter.