Olympic Weightlifters, Grip Strength
They're the only branch of the iron game that's in the Olympics and the guy who wins the the superheavyweight class in weightlifting at the Games is traditionally called the strongest man the world—sure they are fast, powerful, flexible and fearless, but how are they on grip strength?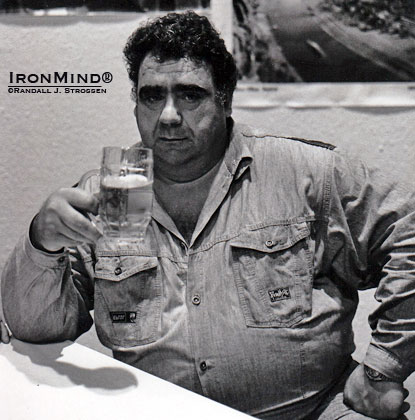 Randall Strossen: "At the 1991 World Weightlifting Championships the press center had complementary beer and one of our frequent guests was Vasily Alexeev, then coach of the Soviet team. One day I pulled out an IronMind Silver Crush No. 3 gripper and Vasily kindly obliged me by giving it a shot: He crushed it down pretty close, but he didn't quite put it away. 'This isn't dancing, horseshoes or hand grenades,' I told him through a translator – 'close doesn't count, the handles have to touch.' I'd have gotten him a beer as a consolation prize, but he already had one." IronMind® | Randall J. Strossen photo.


Three-time Olympic weightlifting coach for the USA, Jim Schmitz talks about weightlifters and grip strength this month—anecdotes, analysis, commentary and training tips, too.

Select from the Training Articles menu at the top of the IronMind homepage, or click here to go directly to Weightlifters and Grip Strength by Jim Schmitz.

###

The IronMind Forum: discuss this article, talk strength, get help with your training.

You can also follow IronMind on Twitter.