Olympic-Style Weightlifting: The Numbers Prove It's Safe
Dr. Dominik Doerr, a member of the European Weightlifting Federation Medical Committee, has shared with IronMind® data on injuries at the European and World Weightlifting Championships, as well as at the Olympic Games—and for anyone who thinks weightlifting is a dangerous sport, the data prove otherwise.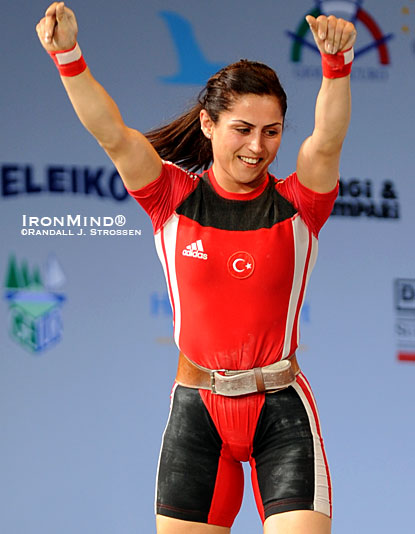 Turkish weightlifting star Sibel Simsek quietly celebrates a good lift at the 2008 European Weightlifting Championships (Lignano-Sabbiadoro, Italy). Lifting in the women's 63-kg category, Simsek snatched 105 kg, and cleaned and jerked 121 kg. IronMind® | Randall J. Strossen photo.


Once upon a time, there was a feeling that lifting weights would make you slow and inflexible, and that it would even stunt your growth. Such claims might sound silly today, since virtually all top athletes include resistance training in their workouts, but what of injuries? Especially in the Olympic sport of weightlifting, where huge weights are snatched or clean and jerked in the blink of an eye, isn't this just an open invitation to injury?

Such is not the case, and the ongoing data presented by Dominic Doerr, M.D. clearly contradict the myth that the sport of weightlifting is dangerous. And to really put a sharp point on this analysis and its conclusions, the data analyzed by Dr. Doerr were drawn from the sport's most competitive level: the Senior European Weightlifting Championships, the Senior World Weightlifting Championships and the Olympic Games.

"If you look to the data, some things are already obvious," Dr. Doerr told IronMind®, as he summarized the principal conclusions:

• men have more injuries than women
• lighter bodyweight categories seem to be more 'dangerous'
• the elbow is the most affected body part
• second and third attempts have more injuries (which is simply logic), but there seems to be a cue that in Snatch, it is the second attempt, but in C+J, the third one

So, strike another myth about weightlifting, because the truth is that it has a "low risk of injury," Dr. Doerr said.


Want to discuss this article? Join the IronMind® Forum!

You can also follow IronMind® on Twitter.